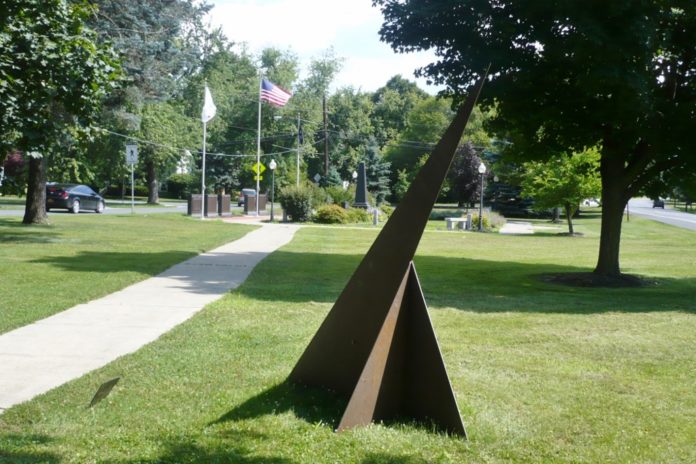 Conrad Levenson, the final sculptor featured in The Observer's series on Red Hook's Sculpture Expo 13, calls himself "an architect, sculptor, and avid collector and recycler of unusual artifacts, found objects, and scrap materials."
Now Levenson can add "winner of the People's Choice award" to his list.
Two of his three sculptures on display around the Village of Red Hook took first and second place in the local contest run by Red Hook Community Arts Network, the sponsor of the exhibition.
"Screw Totem," which stands on the corner of Prince and South Broadway next to Village Hall, took top prize, and "Insight Out," on North Broadway in front of Skinful Impressions Tattoo, won second place.
Levenson, who retired from full-time architecture about five years ago, said that usually he makes sketches for his sculptures after seeing materials that inspire him.
"Then it's trial and error," he said, describing the various combinations of pieces he tries and the joy and struggle of attempting to attach them together into a finished piece. "It's like the gift that keeps on giving, if you find things like this that have a history and then they have a life of their own as art."
He added, "It meant something a hundred years ago, it can mean something today."
His work, "Screw Totem" is shaped like a person, with a cast iron head and a body made from a large metal screw ending in a solid oak base, which Levenson speculated may have been part of an old press. It stands over eight feet tall, and the base alone weighs 200 lbs.
"When I saw it, I had to have it, but I had no idea what I was going to do with it. I responded to it," Levenson said.
"Insight Out" is made from two parallel ice saws standing on end with a fitted metal bowl like a gong hanging on a stand.
" It is a piece that's deliberately static, the viewer is in motion. This is …contemplative, there is no action," Levenson said.
Hhis third piece, "Dynamic Angles," in Memorial Park on North Broadway, is abstract, a sharply angled triangle standing eight-foot high and made with new materials instead of recycled ones. It is modeled after a small sculpture that Levenson made out of cardboard at his desk in his first job out of architecture school.
Becoming a collector of interesting artifacts and "junk" is a must in Levenson's line of work.
He said he particularly likes to work with old tools and machinery that have a history and cultural importance.
Levenson, who has his studio at his Stanfordville property, sees themes of reclamation in his art that parallel his architecture career. Much of his career, starting in the late 1970s, focused on abandoned or seriously deteriorated buildings that were being reclaimed to house homeless, low-income, and mentally ill populations.
"It's the same concept," he said. "Things and buildings that society no longer sees value in, just like they no longer see value in certain people. I see the value and by repurposing it and recombining it, I allow other people to see the value, so people can appreciate it."
Sculpture Expo 13 will run until Nov. 20. It is a seven-sculpture exhibition organized by Red Hook Community Arts Network (RHCAN). All seven can be viewed in various locations around the Village of Red Hook. To learn more, visit www.rhcan.com or contact sculptureCAN2013@gmail.com. To see more of Levenson's work, visit www.conradlevenson.com.
Facebook Comments