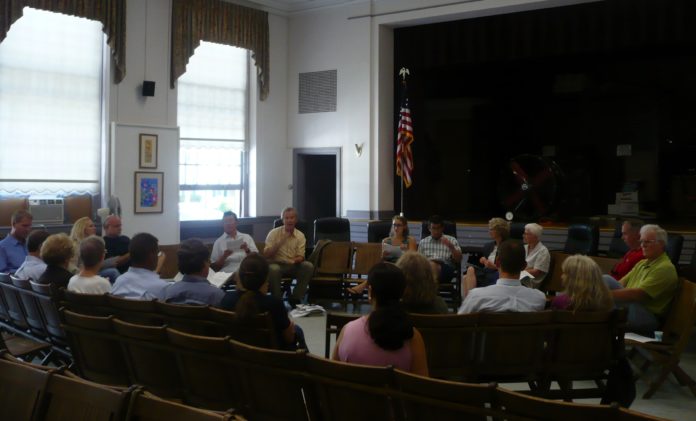 The appropriateness of a mental health and addiction counseling center in the heart of Rhinebeck came into question at a July 24 Town Hall forum that drew a throng of concerned neighbors.
Village Mayor Jim Reardon said there was a major concern that the site plan for the building at 47 W. Market St., which now houses three nonprofit organizations, was never revised and re-submitted when the organizations took over the lease last year from the Dutchess County Department of Mental Health.
"The site plan is invalid. There are three different organizations operating out of that building, so by law each one of them should come before the planning board and have some type of review, including traffic volume, parking needs, and exterior signage," he said.
He added that the village attorney and zoning enforcement officer have begun a dialogue with the property owner, Daniel Colnaghi, and his attorney, Jeffrey Martin, and that the village expects answers to many of its questions shortly.
Dutchess County Legislator Joel Tyner, who represents Rhinebeck and Clinton, hosted the forum. About 35 people, mostly residents of Oak Street and the surrounding neighborhood, attended. Also there were representatives of two of the nonprofits–Occupations, Inc. and Lexington Center for Recovery. The third, Hudson Valley Mental Health, sent no representative.
The CEO of Occupations, Amy Anderson-Winchell, gave an explanation of why her organization hadn't sought village approval.
Occupations, which counsels individuals with mental illness, has always followed local laws at its other facilities in seven other counties in the state, she said.
"Never in my experience do I recall being out of compliance with a local ordinance," she added. "…When we got involved with Dutchess County a couple years ago, we had our staff work alongside county staff so that it wasn't an abrupt transition. So on April 2, 2012, the license changed, but up until then our staff had been working with the county under the county license. So I didn't think of it as a change of use because we had been there for months and months preparing. "
The problems were first brought to the attention of the village board at its May 14 meeting, when a group of residents outlined their concerns about the new use of a building that had previously served as a county treatment center for the developmentally disabled and mentally ill.
According to a petition they brought along, the residents said the center's clients were loitering outside the facility and trespassing on private property, taxis were traveling at unsafe speeds, and there had been numerous incidences of theft or opened UPS packages.
Since that meeting, Reardon told the forum, there has been some progress made on addressing such concerns, particularly by Nonie Kelley Jacob, program director of Occupations.
"Based on the conversation with Nonie, there was some proactive change on [Occupations'] part. I give due credit to them…But that is the only organization that reached out to me," he said.
He also said that one client at the facility had been arrested since May 14, but he would not give details, citing an ongoing police investigation.
Tyner gave residents a chance to explain what they saw happening in the neighborhood and ask for answers from the nonprofits' representatives.
Maureen Gregory, who lives in the neighborhood, asked if the two groups could estimate what percentage of their clients come from the Rhinebeck area.
Michael Corless, the clinical supervisor for Lexington Center for Recovery, which treats substance abuse issues, said he was not equipped to give an exact number for clients who are from Rhinebeck or close by, but he estimated that 15 percent of their 300-400 clients are from north of Hyde Park. He also guessed that most of the clients at the Rhinebeck location would be from nearby, since many are there because of DWI convictions and do not have their own transportation.
Suzanne Borrelli, a substance abuse counselor with Lexington, agreed that at least 50 percent of her clients seem to be from the Rhinebeck area.
Vicki O'Brien, director of behavioral health services at Occupations, said all of their clients at the facility come from Dutchess County and that most come from the immediate area around Rhinebeck. She said all their clients are diagnosed with a "serious" mental illness, such as bipolar disorder, major depression, or schizophrenia, and that they are the same people who were being treated at the location before the switch from county services to private services.
Other neighbors spoke about the impact of the facility on the neighborhood.
Kathleen Ghee, an Oak Street resident for over 30 years, said, "In the last year since [the change-over], there has been a dramatic negative impact on our residential area…There is no security and no supervision for those clients who are in the parking lot. In my mind, this is a substantial safety risk to the people of the Village of Rhinebeck, to those people who visit our community, and to the clients you are serving."
One major neighborhood issue that surfaced is that many of the center's clients rely on medical transport or taxi cabs to get to their appointments.
Chris Chestney, of Dapson Chestney Funeral Home at 51 W. Market St., spoke about the impact of traffic coming and going from the facility.
"This is a serious deviation from the previous tenants' traffic pattern. They came at 10 o'clock in the morning and they left at 2 o'clock in the afternoon. It was never brought before the planning board that there would be this constant rotation of taxis at one-hour intervals all day long," he said.
Reardon said he had already contacted one cab company to complain about speeding on village roads.
"If a resident has a problem, they need to be proactive and call the police department," he told the audience. "We need documentation that shows that there needs to be a response in that neighborhood. A lot of the things that have happened, they weren't calling the police department."
Several neighbors said that they were unwilling to call the police every time they see a cab parked in a bike lane or someone loitering near their property.
"That's silly, it's a waste of [police] time. And it's an imposition to be asked to monitor to this extent because something is going on every day. It didn't use to be this way," Miranda Parry said.
Late or inconsistent transportation may also be causing some of the loitering problems. Both the Lexington and Occupations representatives said their clients are encouraged to wait in one of the multiple waiting rooms. But O'Brien added that since patients have free choice, many go outside.
In addition, a smoking ban that Occupations has placed on all their facilities and grounds may also have had the unintentional consequence of sending clients to the sidewalks in order to smoke, Anderson-Winchell said.
Residents were concerned not just about the loitering or trespassing, but also about the health of the clients waiting outside.
Parry described her concern during the recent heat wave: "Groups of people have been waiting outside in the heat. It's as if they are using the parking lot as a waiting room. That doesn't fit under any treatment model I know," she said.
Dan Rushton, an Oak Street resident, thanked Tyner for creating an opportunity for dialogue. "The behavior has settled down over all [since the May 14 meeting]…It is obviously of concern to everyone here. There's some progress being made here,…making sure people follow the procedures for bringing in private agencies," he said.
As the forum started, Tyner set a context for the situation in Rhinebeck by laying the blame at Dutchess County's door. He said that the county needs to reform and fund its mental health care operations, rather than farm out the work to private entities.
"Unfortunately, mental health care has been jeopardized and privatized for too many years," he said.
Tyner plans to hold another forum on the issue on July 31 at 6pm in Town Hall.
Facebook Comments