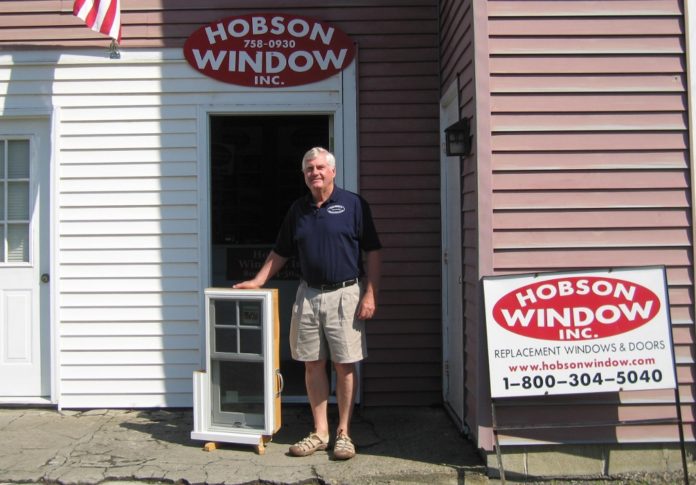 On meeting the friendly Hobson family at their new Red Hook shop on Elizabeth Street, it becomes really clear why Hobson Window, Inc. is so well-known and respected in the Hudson Valley.
Steve Hobson started Hobson Window in Rhinebeck in 1993, and his father, Glenn, joined the business in 2001. Glenn's grandfather was a farmer in Milan in the 1800's, and Glenn's dad, Lou, a U.S. Navy veteran, started Hobson Radio, which in 1935 became Hobson Appliance (still in Rhinebeck). Glenn and Steve are U.S. Army veterans; Steve's brother Keith is the Hobson window and door service technician. Sons, Jack, 12, and Luke, 10, attend Red Hook schools and are able to walk over and hang out at the store after school, but they are not measuring mullions…yet.
"We decided to establish a storefront in Red Hook and opened on July 1," said Steve. "We are local, but we travel anywhere. Hobson Window now includes a full glass and screen division that can now offer same-day turnaround service, and we're in the process of constructing a showroom."
The five-man installation crew is ready to handle all types of glass: mirrors, tabletops, bay windows, French doors, porch enclosures, and any kind of custom special order. Some of their many and varied assignments include work at Rhinebeck Town Hall, St. Sylvia's Church in Tivoli, the Maritime Museum at the Rondout in Kingston, and the 4H Building at the Dutchess County Fairgrounds.
"All products we provide are 100 percent Energy Star compliant," Glenn explained. "The 'U' value (a measure of heat transmission) needs to be measured at .30 or below in order for a home improvement product to be Energy Star compliant and meet federal tax credit guidelines, and our products are as low as .24. We only purchase our products from tri-state area suppliers, nothing overseas."
Francis and Kay Shanley are Red Hook residents who chose Hobson to replace six windows in their home in July.
"There was a crew of five, and they had the job done and cleaned up in about 2 hours and 15 minutes," Kay Shanley said. "Everybody had their job, and they just did it. I was amazed. The way they work, they don't even need a supervisor at all. They were very impressive."
"We pride ourselves on sometimes leaving homes cleaner than when we arrived," Steve said. "We use a HEPA (High Efficiency Particulate Air) vacuum, and all metals we remove in the course of our work are recycled."
Hobson also has a Lead Safe Certification from the Environmental Protection Agency, since the EPA has specific standards for removing lead paint from homes built before 1978.
"People might be surprised that our small local store offers the same products as larger, national chains, but we actually have a bigger selection and our service is very personalized," Steve explained. "We keep it simple…like our sign."
Their logo with the red oval and bold white letters– on their new office across from The Chocolate Factory, on their fleet of trucks, and on signs in front of their jobs around the Hudson Valley — is as recognizable as the Hobson family members who are rooted in the community and committed to serving it.
51 Elizabeth St., Red Hook
Hours: Mon.-Fri., 7am-4pm; Sat. 8am-1pm and by appointment.
800-304-5040; 845-758-0930; 845-876-8447
www.hobsonwindow.com hobsonwindow@frontiernet.net
Facebook Comments