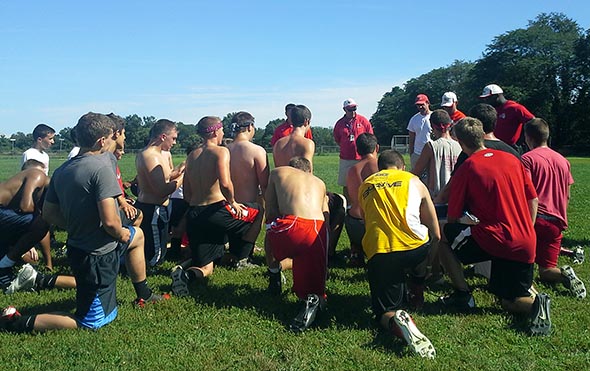 There are a lot of moving parts for Red Hook Raiders football this year, including the new varsity head coach John Kravic, a slew of reassigned assistant coaches, and new starting varsity quarterback Nick Carlson.
Kravic, who has been part of the Red Hook coaching system for 15 years, most recently served as junior varsity head coach from 2008 through 2012. He is replacing Bill Stutz as head coach.
Kravic, whose last stop in varsity coaching was a stint as defensive coordinator in 2007, told The Observer that the Red Hook football coaching staff has been realigned to allow more particular game coordination.
"I was lucky coming in, in that I have Nick Fredericks, who has been running the offense on the varsity level for the past three years," Kravic said. "Coach Quentin Johnson is going to be the defensive coordinator. In the past, we always had a head coach who was would either call plays on offense or defense. This way, I can manage the game as head coach."
Johnson is making the jump from junior varsity to varsity in the upcoming season. Fredericks will remain the team's offensive coordinator. Tim Rodgers, who served as a varsity assistant head coach in 2012, is taking over head coaching duties of the junior varsity program this year. Andrew Sheldon, a former Red Hook modified coach, will be moving up to the junior varsity level as defensive coordinator. The only new hire for 2013 will be David Marshall, a teacher at Linden Avenue, who will serve as an assistant coach on the modified level.
It's not just the coaching staff that's getting a facelift. According to Kravic, Red Hook is about to experience a serious youth movement. If the preseason spread holds up, only seven seniors will be returning to the program, four of whom were starters in 2012.
"The junior class is super-athletic," said Kravic. "They're really talented — but then we have that issue of being young."
Kravic added that he's looking forward to big performances in 2013 from quarterback Carlson, junior linebacker Tim Terry, who was all-league as a sophomore middle linebacker in 2012, and junior running back Dustin Ducey, who is crucial to the team's sweep-heavy offensive scheme. Kravic said that in this year's varsity squad, he sees a level of offensive explosiveness similar to that of 2006, the last year Red Hook won a Section IX football title.
However, there won't be much of a change when it comes to the offense scheme, according to Kravic. Red will be without a few key offensive linemen going into 2013, and will have to fill the 6'6" hole in the offense left when Brandon Coleman, Red Hook's most potent receiving threat, graduated.
Adjustments on the receiving front will also be needed if Red Hook wants to reach its team goal of getting to the Section IX Class A playoffs.
Red Hook performed well in the 7-on-7 Lineman Challenge on June 15 in Carmel, going 6-2 on the day. The Raiders are currently running through a skills camp prior to August two-a-days, which will begin on Aug. 19. They open up at home against Saugerties on Sept. 7 at 1:30pm.
Facebook Comments