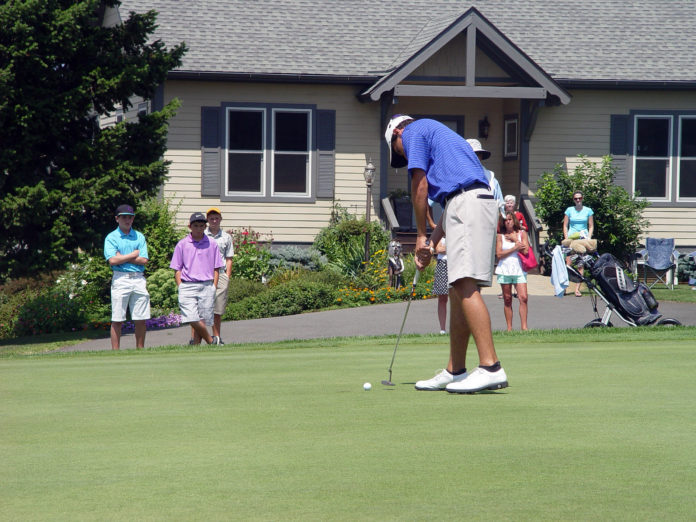 Nick Dilio scrapped the Dutchess County Amateur golf tournament record of five-under on the tournament's final leg at the Red Hook golf club Aug. 4, shooting a six-under on his way to winning his first Amateur title.
Dilio, 19, of Hopewell Junction, shot six under par in the three-day tournament with a 210. The first two rounds were held at The Links at Union Vale in Lagrangeville on Aug. 2 and McCann Memorial Golf Course in Poughkeepsie on Aug. 3. Dilio shot 71 at The Links and 68 at McCann, before finishing one under par, at 71, at Red Hook.
A Division I golfer at New Jersey's St. Peter's College and a former star at John Jay High School in Cross River, N.Y., Dilio kept his cool through the tournament and sank a long putt on the 18th hole at Red Hook to ice his victory.
"In the past month, I've been playing pretty well in tournaments; it was really just a matter of putting it all together," said Dilio, who came in seventh in this year's New York State amateur tournament.
"The competition was good today. A couple of guys came back, shot some good under-par rounds. I mean, these are the best guys in Dutchess County," he added.
Jim Bernard, chairman of the Dutchess County Amateur Committee, said that Dilio had the stuff of "a champion" and a "great competitor." And while he lauds Dilio's performance, he said that as long as the competitors enjoyed themselves, the tournament's goal was achieved.
"Whether you shoot a 71 or a 91, we're here to play, compete, and have fun," he said.
According to Bernard, a $500 donation was made to the Red Hook Public Library on behalf of the Amateur Committee. "Each year for the past five or six years," said Bernard, "the tournament donates to an area charity. This year a committee member suggested we stay very local and give it to the library."
"They operate on a shoestring budget, and serve a wide and growing community. They were ecstatic when we told them about the donation," he added.
Dan Gabel, who shot 71, and Craig Busby and Steve Nosonowitz, who both shot 70, were the only other golfers to finish under par at Red Hook.
Facebook Comments