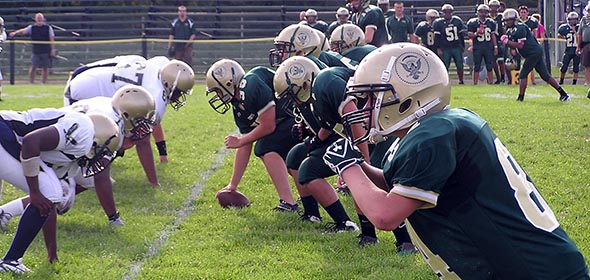 Three years ago, the Franklin D. Roosevelt High School football team won the Class AA Division II regular-season championship, the first time that the school had claimed any athletic title since 1975.
This season, following a disappointing 2-7 campaign, the Presidents will be looking to make their mark in Class A. The change in class was caused by a decrease in student enrollment at FDR. In order to compete in AA, a school must have an enrollment of at least 1,000. Last year, the school had 1,068 students; this year will have significantly less and not enough to compete in AA.
For head coach Brian Bellino, the move down to Class A does not change how the Presidents will prepare for this season.
"It doesn't really make a difference, in my opinion," Bellino told The Observer. "The only reason that we moved was because of student enrollment. We are just going to try to get better with every snap and every rep this summer to get ready for the season, same as every other year."
Bellino enters his fourth season as Presidents head coach. He owns a 13-23 overall record, with his one winning season coming in the championship year of 2010.
The Presidents will have to replace key players from last season, including Joe Ciampaglione, the running back/outside linebacker who was selected for the Section 9 AA All-League Team, and also made the AA All-Selection Team, a squad made up of the 14 best players from all 10 AA teams.
Senior quarterback Matt DuPilka will lead the offensive attack, Bellino said. Dupilka threw for 1,495 yards and nine touchdowns last season, completing 56 percent of his passes.
"We are expecting a lot from [Matt] this year. He's the first quarterback to go through the program since I became head coach, and he threw the ball well last year," Bellino said.
On the defensive side of the ball, seniors Dan Pelkey and Karl Schroeder return after strong junior seasons. Pelkey, a three- year starter at linebacker, had 46 tackles a year ago, while Schroeder made 25 tackles from his defensive line position.
Those two, along with DuPilka and senior wide receiver/cornerback Mike Bryan will serve as team captains.
With the move down, the Presidents will be facing teams that some would argue are not as strong as those in AA. While he admits that he does not know a lot about his team's opponents this year, Bellino does not agree with that argument.
"I have all the respect in the world for those teams," Bellino said. "I don't know a lot about our opponents, but from what I do know, they will be tough teams to play. We [the team] open up our season with three straight road games. We are preparing to face some top teams."
FDR will open its season on Sept. 6, when it travels to Port Jervis High School to take on the Raiders, who went 3-6 last season.
Facebook Comments