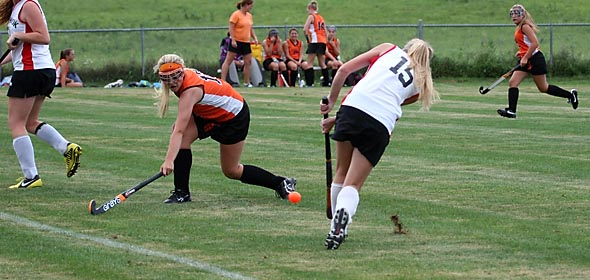 It wasn't a bad season at all last time for Red Hook's girls field hockey team, but it sure wasn't a stunner.
The Lady Raiders finished a touch over .500 for a record of 5-4-2, ended exactly at that mark against Mid-Hudson Athletic League opponents with a 3-3-1, and still had a shot at the Section IX, Class B championship. There they fell, 2-0, to Rondout Valley for the second time in two years.
"Our goal every season is to make it to MHAL championships and sectionals and beyond and win," Red Hook head coach Diane Zduniak told The Observer. "Last season, we fell short of these goals and in my opinion, it was a rebuilding year."
For Red, the rebuilding stage is now over. After losing six seniors to graduation in 2012, the Lady Raiders will be returning a veteran squad, including 10 juniors and six seniors. Zduniak said that the emphasis this season will be on putting together an up-tempo offense, the lack of which, she said, hurt their chances for success in 2012.
"This year, our offense has many talented players and we need to put the ball in the cage, since that was part of our downfall last season," Zduniak said.
She is also expecting the defense to play with a little more verve, and is expecting big play out of senior goalie Alex Thiesen. "We need to be aggressive and mark in the circle on defense and, fortunately, we have our goalie returning…. She is very capable and she will be a vital piece to our defense," Zduniak said.
Zduniak has a good feeling in general about the upcoming season. Now the only question is whether this team, which she describes as cohesive and supportive, has the gumption to overcome the Rondout Valley Ganders, the only serious stumbling block on their way to state competition.
To put it in perspective, Red Hook has made four appearances in the past six years in the Section IX, Class B championship. Aside from the three championship losses to Rondout in 2012, 2011, and 2008, they claimed two victories in the final 2010 and 2006.
If history is any indicator at all, the Lady Raiders, barring disaster, should at least be in contention for the sectional crown, and will likely be contending for it against the Ganders, who have grabbed the hardware six times since 2004.
Red Hook will open up at home against Onteora on Sept. 16 at 4:15pm.
Facebook Comments