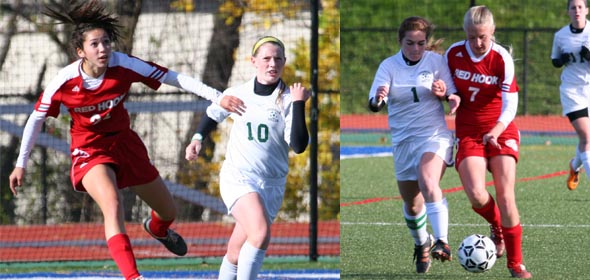 The Lady Raiders of Red Hook look primed for another big soccer season, according to their coach; the Lady Hawks of Rhinebeck, however, face an uphill battle.
The Red Hook girls varsity soccer squad made it to the Section IX, Class A final last season, collecting a 14-2-3 record before falling to Cornwall, 2-0, and losing the Mid Hudson Athletic League final to Fishkill, 1-0.
On the other hand, Rhinebeck's team pulled out a 9-7 record in 2012 — a middling season, but a step forward for a team that, according to head coach Matt Grande, "hasn't had a winning season in a while."
Coming into the 2013 season, the Red Hook team is losing seven starters, including 16-goal scorer and All-State team selection Caitlyn Swanson and nine-goal scorer Julianne Wilkinson, who is leaving to focus on basketball this season.
"Our front four had a great deal of speed and skill last year, which is a deadly combination," Pavlich told the Observer. "When you lose such a good senior class, you can only hope the next group is ready to step up and assume that leadership role. Only time will tell if they are willing to take that on."
Pavlich is looking for big contributions from freshmen Isabella LaBarbera, Alexa Franceschi, and and Claire Dyal on the attack, as well as junior Shannon Berg, who will lead the midfield corps.
"Even though we lost a great deal of last year's team, I think we still have the pieces to contend for both the league and sectional titles. It remains to be seen whether we have enough to win that championship game, but I don't see any reason why we shouldn't be playing in it. We don't expect anything less than that," Pavlich said.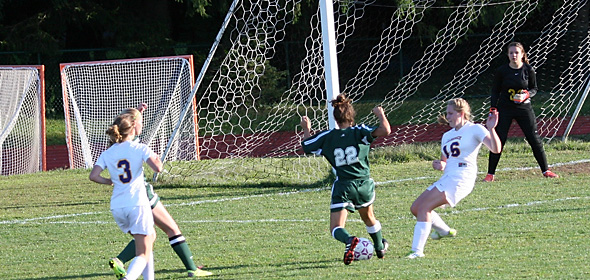 In short: don't look for any change in their winning ways — the Lady Raiders have won the section nine times in a row and Pavlich will probably lead them to their 10th.
Red Hook will have their home opener against Pine Bush on Sept. 7 at 11am.
The outlook won't be as breezy for the Lady Hawks. Along with the boys team, the Rhinebeck girls team will be making a jump in division, from Section IX, Class C to Class B.
And while the graduation hit isn't as big for Purple, Grande is evaluating his small team's situation pragmatically. He said that his primary goal for this year's team is to get them into serious playing shape.
"We need to build our stamina," said Grande. " I expect my starting 11 to never come off the field."
What might make that a little easier for those 11 players is the team's decreased reliance on breakaway scoring in 2013. Grande said, traditionally, that his team focused on fast break plays, but will hopefully be making a transition to a midfield-centric offense.
Grande said that he looks to forwards Rachel Tigges and Natalie Hutchins, as well as senior middie Christine Hatter — Rhinebeck's primary scoring threat and the likely lynchpin of this year's offense — to guide Purple through its first year as a member of Class B.
It could be a tough season for the Lady Hawks, but they're in a better position than they could be considering their better-than-average record in 2012 and Grande's new offensive scheme. They'll open up on the road against Pine Plains on Sept. 4 at 4:15pm.
Facebook Comments