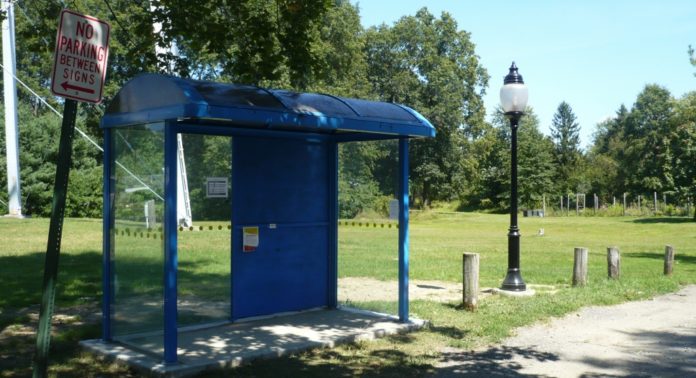 There's good news and bad about the new Pine Street bus stop in the village of Tivoli.
The improvements to the new stop are in the final stages of completion, according to Deputy Mayor Joel Griffith.
At an Aug. 21 Village Board workshop, the board announced that the lamppost at the bus shelter has been put up and will finally be getting a power source by Aug. 31.
The stop has been used by the Bard shuttle since the end of the spring semester, even though college officials were concerned about dropping off students in a dimly lit area.
But another problem has cropped up.
Griffith said he recently discovered that the parking ordinance along Pine Street allows cars to park directly in front of the bus stop without penalty. He pointed out that this creates the kind of congestion around the new bus stop that triggered removal of the old stop in front of the Tivoli Post Office on Broadway.
So the village will now seek to set up a no-parking zone at the Pine Street site, which is near the entrance to Tivoli Memorial Park.
During public comment at the workshop, one village resident voiced his concern that the Dutchess County LOOP bus has not been stopping at the Pine Street stop recently.
Griffith said that the village will solicit the county Department of Transportation to bring the LOOP bus to the stop in the near future.
There will be a public hearing to discuss the no-parking zone on Sept. 11 at 6pm at the Village Board meeting in the American Legion building.
The new bus stop has been an ongoing project in the village since last October. At the time, and after complaints of late-night student noise on the streets, the village met with Bard College officials and began the process of moving the stop, used by both the Bard shuttle and the LOOP bus, away from the center of the village.
The college donated the lamppost to light the new bus shelter; the county DOT provided the actual bus shelter, and the village went through the process of getting a zoning variance to waive the 30-foot setback requirement for the shelter.
But the lack of lighting remained a key issue for months.
Facebook Comments