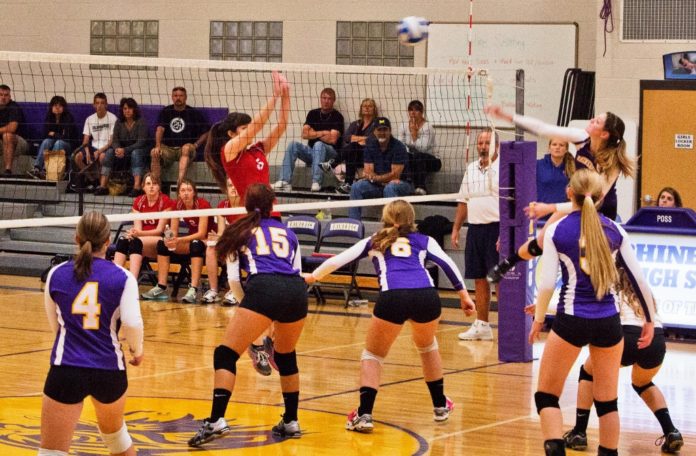 The Rhinebeck Hawks volleyball team has pulled off an astonishing feat for high school athletics: they didn't lose a single player to graduation this year.
According to sophomore head coach Allie Ferretti, all the players from 2012 have returned, and there are two major additions in Alicia Acosta and Amanda Cassata.
"Both will be bringing great things to the team this year and have already contributed to our first win against Wallkill," Ferretti told The Observer.
Rhinebeck scored their first win in their home opener against Wallkill on Sept. 3, beating the Panthers 3-1. The Lady Hawks dropped the first game in the match, 14-25, but won the next three 26-24, 25-16, and 26-24.
In the 2012 season, Ferretti replaced longtime Rhinebeck head coach Bill Doyle who, in his final season, took the Lady Hawks to the Class C State finals. Doyle also nabbed the 2010 and 2009 Section titles.
Ferretti didn't duplicate those successes in her first season as head of the program, but she said she did learn a few things.
"I have learned that as a coach I need to stress the importance of the team," she said., "Last season we lost sight of that a little and I know that a strong team consists of all the girls working toward the same goal. We have established our goals and [are] working together toward them."
According to Ferretti, the key this season is pep. "This season we are working on being able to keep our energy up and have added some different strength training drills to our routine. that will increase foot speed and improve our energy on the court," she said.
Ferretti added that the team is looking forward to three games in particular, including their Sep. 17 faceoff with Spackenkill, the team that ousted them from the 2012 sectional playoffs, their Oct. 3 showdown with Millbrook, the team that won the sectional title last season, and the annual match with Red Hook, crosstown hyper-rival, which was scheduled for Sept. 10.
Rhinebeck has a chance this year. Ferretti will be coaching a team of girls she now knows very well. And even though they didn't burn holes in the sectional competition in 2012, she's confident in what lies ahead this season.
"We are a force to be reckoned with, and it is going to be difficult to stop us," she said.
The Rhinebeck team, however, went 5-1 in sets in pool play at the Andy Bennett Tournament Sept. 7, dropping only one set to Ravena. They were knocked out in the first round by Port Jervis, losing in three games.
Correction: This article has been updated to correct the name of the longtime Rhinebeck coach, Bill Doyle, and a misidentified player, Amanda Cassata.
Facebook Comments