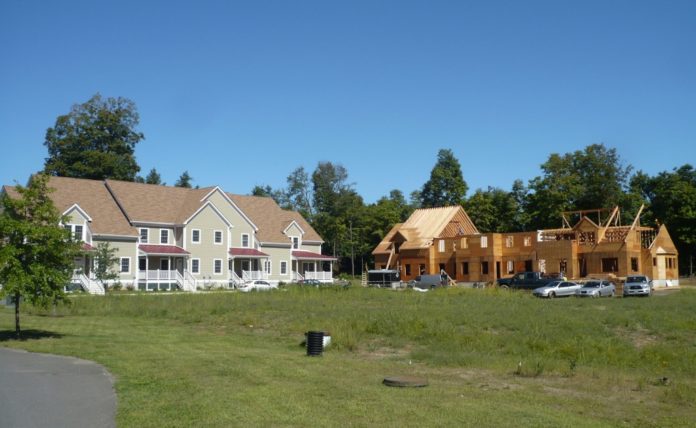 The townhouses taking shape on Firehouse Lane in the Village of Red Hook were at first an intriguing addition to the village, but then became an eyesore that remained unfinished– and seemingly abandoned– for five years.
Lately, however, construction work on the site is prompting questions about what's being planned there.
According to the new developer, it will be a condominium complex with rental units and is called Knollwood Commons at Red Hook. The property was subdivided into three lots back when the project was first approved in 2007. The larger 4.09 acre parcel will have five buildings, two of which are completed; work on building 3 began in June. Each building has four 1,800-2,000 sq. ft. three-bedroom condos side by side.
The five buildings will stand in a semi-circle and once the development is completed, the road into the development, now called Reilly Lane, will loop in front of the buildings to form a cul-de-sac andwill become a village road.
According to Sam Harkin, village building inspector, the underground infrastructure for all five buildings has already been installed, including storm drains and lateral water pipes to the village mains.
After the project was originally approved, two units within the first building were finished within about 18 months. According to John Pollis, managing partner in Knollwood Commons LLC, funding for the original project dried up when the housing market took a nosedive at that time. In 2012, the current LLC was formed and funds for the project raised, so building began again in October.
Pollis told The Observer that all units in the first two buildings are occupied and there is a waiting list for future condos as they become available. He said that it takes about four or five months to complete each building and he hopes to have building 3 available to renters by November. The apartments are being rented through LeGrand Real Estate.
Originally, the condos were to be sold, but due to the "softening" of the housing market, Pollis has decided to rent them, at least for now. "It may be in the future that we would sell, but right now…it's not a good time to be selling condominiums," he said.
After the five residential buildings are completed, two more buildings are planned on two small lots, one on each side of Reilly Lane. The buildings are currently approved for mixed use, with some commercial retail space on the lower floors and residential space above. But Pollis said he is considering going before the planning board to request a change from mixed use to completely residential because he feels the market for retail space in Red Hook is soft, but that there is still demand for "quality rental" residences.
Facebook Comments