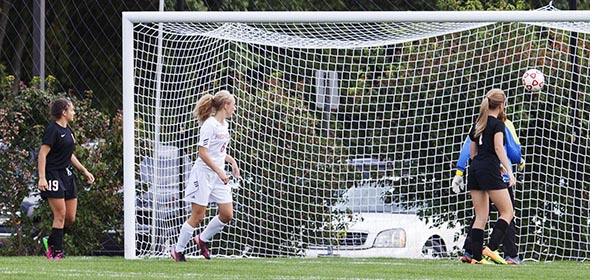 A soccer doubleheader was Red Hook's Hardscrabble Day's finale on Sept. 21, and the Lady Raiders varsity team didn't disappoint: they beat the Marlboro Lady Dukes 5-1, improving to a 3-1-2 record overall and a 2-0-1 record in divisional play.
It didn't take long for Red to get on the board. Not even 30 seconds. Lauren Marici put in a goal assisted by Isabelle LaBarbera at 39:44. There was little other scoring action in the half — the focus was on goalie Shayne Esposito, who, on her way to a four-stop game, made a stop with 19:50 left on the clock and a killer one-on-one stop with 13:45 left in the period to keep Red Hook on top.
Marlboro made an offensive push toward the end of the first period, but it yielded nothing, and Red went into the half up 1-0.
"I thought we played well in the first half, but we had some chances to put the game out of reach that we didn't capitalize on. That's what we talked about at the half — we let one get away from us on Monday against Highland and we were determined not to let that happen again," head coach Jason Pavlich told The Observer.
Things got fun in the second half. To open up the scoring, Alexa Franchesi nailed one in the back of the net in the 51st minute, unassisted. Five minutes later, with 24:20 left on the clock, Shannon Berg scored on a shot from almost half field that carried high and dropped into the bottom left corner of the goal. The Lady Raiders scored their next goal in the 74th minute, on a LaBarbera shot from about 30 feet. Charlie Webber would round out the Red Hook scoring campaign, chipping in a shot in the 76th minute to give Red their five-goal lead.
But in the final minute, Marlboro just managed to block a shutout when Andrea Schoonmaker put one in for the Lady Dukes.
It was still a blowout win for Pavlich's team, and he admits that Mother Nature may have helped the Lady Raiders at their kind-of-homecoming match.
"It was a big difference. In the first half, we were going into the wind — so those long shots we made, we told them not to take them, because there very little probability of them going in. But we knew once we had the wind in the second half, we really had some girls who could let it fly," he said. "So going into the second half, I told them 'Any of you that are capable, from 30 yards and in, let it fly."
Red Hook will face off at home against New Paltz on Sept. 25 at 4:15pm.
Facebook Comments