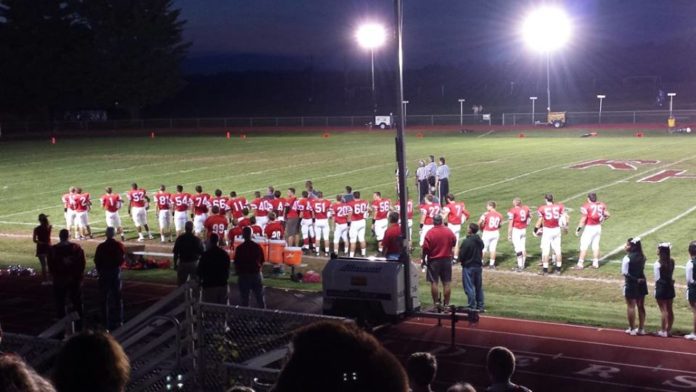 Just three days after their rough run in Highland, losing 20-6, Red Hook's Raiders hosted Spackenkill for their homecoming football game Sept. 20 — and beat them 20-6.
Spack's Spartans had a size advantage and a personnel advantage over Red Hook, traveling with five more players than were on the Red roster. But from the outset, it was clear that the Spartans had no idea about what to do with Red Hook's three-pronged running game.
In fact, all of those prongs carried the ball on the way to Red Hook's first touchdown. A left-side sweep from John Alessi brought the ball into Spackenkill territory, followed by a 15-yard draw for quarterback Nick Carlson, and a pair of runs up the middle from running back Dustin Ducey, After that, Alessi breezed it in for a 5-yard touchdown at 7:55, running off the left tackle.
Red Hook's defense was playing serious ball all night, too. They didn't allow a touchdown until a Spackenkill heave led to a touchdown in the fourth quarter, and Tim Terry — Red Hook's resident sack samurai — posted two sacks within minutes of each other, assisted by Ben Zitz.
Unable to sneak anything past the Red Hook line in the top of the second quarter, Spackenkill turned to a screen-heavy offense, hoping to gain quick yards on the Raiders. But the Red Hook backfield figured things out quickly and prevented any major gains from coming off screens. It helped that Spackenkill quarterback Abalos Camron was having serious trouble hitting his targets.
The Raiders didn't score again until the third quarter. After a Carlson screen pass led to a fumble recovered by Spackenkill, Spack immediately turned the ball over on the ensuing play, on a fumble recovered by Terry. Then Carlson led the Raiders downfield — mostly on foot, mostly on his own — for a touchdown that he ran in.
Ducey scored Red Hook's final touchdown at 8:05 after a long drive, but the Raiders hooked the point-after attempt, putting them up 20-0. Spackenkill went deep in their final drive, but gave up a game-icing interception to Red Hook's Matt Hahn-Rauch.
Red Hook rushed for a combined 279 rushing yards. The Raiders next visit undefeated Marlboro on Sept. 27.
Facebook Comments