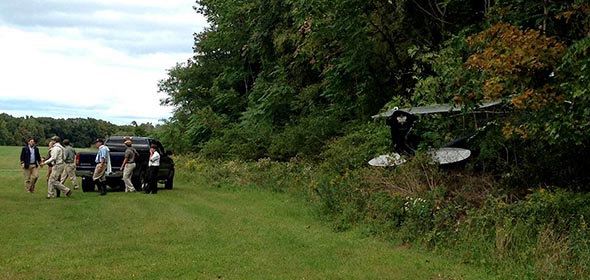 One of two planes in Sunday's opening act at the Old Rhinebeck Aerodrome show experienced engine failure mid-air, forcing the pilot to crash land in the trees next to the runway. The pilot, who was not named, walked away unharmed by the mishap.
When the engine of the biplane, a vintage 1940's Tiger Moth, shut down, air show director Chris Bulko told The Observer, it "basically becomes a glider." Bulko said that the pilot then attempted a down-wind landing but realized that he would overshoot the south end of the landing, which abuts Stone Church Road.
"Rather than risking going out onto the road, he made a left turn and went into the saplings on the left side of the runway just short of the road," Bulko said.
The airplane had some damage to its wings from the saplings. The aerodrome is withholding the pilot's name because the engine failure investigation is ongoing.
Facebook Comments