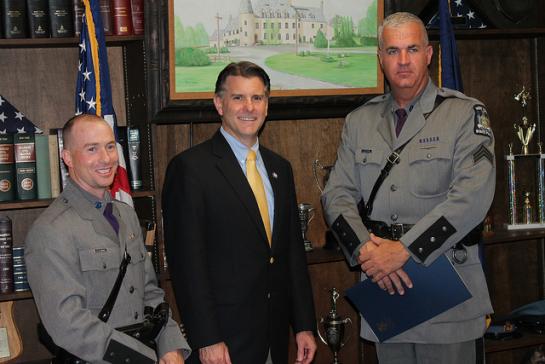 State Senator Terry Gipson (D-Dutchess, Putnam) presented three State Troopers from Troop K with Senate Resolutions for receiving top honors from State Police Superintendent Joseph A. D'Amico at the New York State Police 37th annual awards ceremony and memorial service.
Sergeant Darren W. Forbes, a 25-year veteran of Troop K – Rhinebeck received the Trooper William V. McDonagh Award. Trooper Michael A. Bianco of Troop K – Dover Plains received the Superintendent's Commendation Award. And Trooper Daniel J. Hoffman of Troop K – Poughkeepsie received the Brummer Award.
"We are fortunate to have such dedicated New York State Troopers stationed in the 41st Senate District," said Gipson.
He added, "I want to thank Sergeant Forbes, Trooper Bianco, Trooper Hoffman and all of our law enforcement for their selfless service to our community."
Facebook Comments