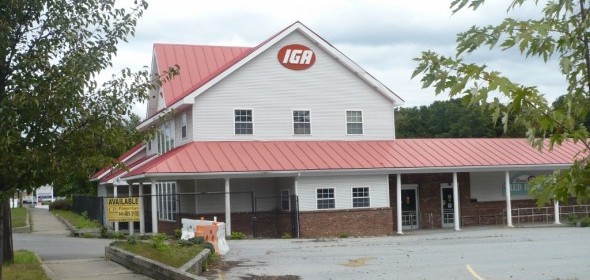 Is CVS buying the former IGA property in Red Hook?
Maybe so. It all depends who you ask.
But one thing is for sure, it's a hot topic in the village right now.
Red Hook Village Mayor Ed Blundell and sources close to the Tiberio family, which owns the now-shut supermarket property, say CVS has expressed serious interest in moving there. But there has been no official offer.
And the just-passed six-month moratorium on site plan approvals in the village may put any such offer on hold for some time.
The possibility of CVS taking over the site has been more than a year in the making, with several closed-door conferences.
Between January and July of this year, designers from Gershman Brown Crowley, an Indianapolis-based developer that was representing CVS, met with Red Hook village officials about possible site plans for the location. According to Blundell, both CVS and the village board had an interest in meeting behind closed doors.
"Those talks, in my opinion, were high-level and formative, they were not definitive. Anything definitive would have had to come out of a vote," he told The Observer, noting that the meetings never had a quorum of board members and as such didn't require public notice.
From the beginning, CVS had proposed constructing a new building on the 2.3 acre site, at 7568 N. Broadway, but requested the option for a drive-thru window, according to Blundell.
But that is not an option under current village zoning law. Drive-thrus are currently only allowed in the village for banks. The Dunkin' Donuts on South Broadway is just outside the village border.
"I think what they wanted was for us to concede, change the zoning law, and then let them build what they wanted anyway," Blundell said.
For his part, Blundell said his goal was to deliver to the planning board "a nice product coming in that would be positive for the village." He said he and others had been actively looking for entities to purchase the site since the IGA closed in April 2011. He also spoke to the village's planning board to prepare them for the possibility of an involved application.
In February, village board members met with representatives of the CVS developer , who brought in a plan that included a drive-thru and parking on all sides of the building.
Village officials pushed back, explaining that current zoning does not allow drive-thrus and requesting that any parking be contained in the back of the site.
In May, CVS submitted another plan, referred to as concept plan 7, or CP-7, which was closer to the village's requests. It still included a drive-thru window, but most of the parking was behind the planned building.
Village and county planners then debated whether the compromise would work. Blundell said village officials were still unconvinced that a drive-thru was acceptable, even if there could be a provision that allowed them only on that site.
Then, on July 22, the village received a letter from CVS saying they had rejected CP-7 as an option because it "does not meet CVS business and operational needs."
Soon after, Blundell said, he spoke with a CVS representative who said the company had decided to submit an application to the planning board that would drop the drive-thru option but keep the parking in front of the building.
Those changes would have been technically acceptable under current zoning code, but were not in line with village officials' ideas about where the village was headed in terms of development. However, no CVS application had been received before the moratorium was passed two weeks ago.
"It's the middle of the village…We're not going to roll over," Blundell said, noting that he has seen examples of similar types of stores that conform with the kind of zoning he envisions, including an exterior and parking arrangement that match the guidelines of the village's new Pattern Book and Architectural Guidelines.
Village zoning changes have been pondered all year by a new Zoning Review Committee appointed in January. The committee was charged with proposing ideas for code changes to the board by the end of the year, and Blundell said its work was focused on "glaringly problematic" areas.
Although Blundell was quick to point out that the new moratorium was not targeting CVS, residents quickly drew the connection anyway in their comments at the public hearing that preceded passage of the moratorium law Sept. 9.
CVS did not return requests for comment by press time.
Facebook Comments