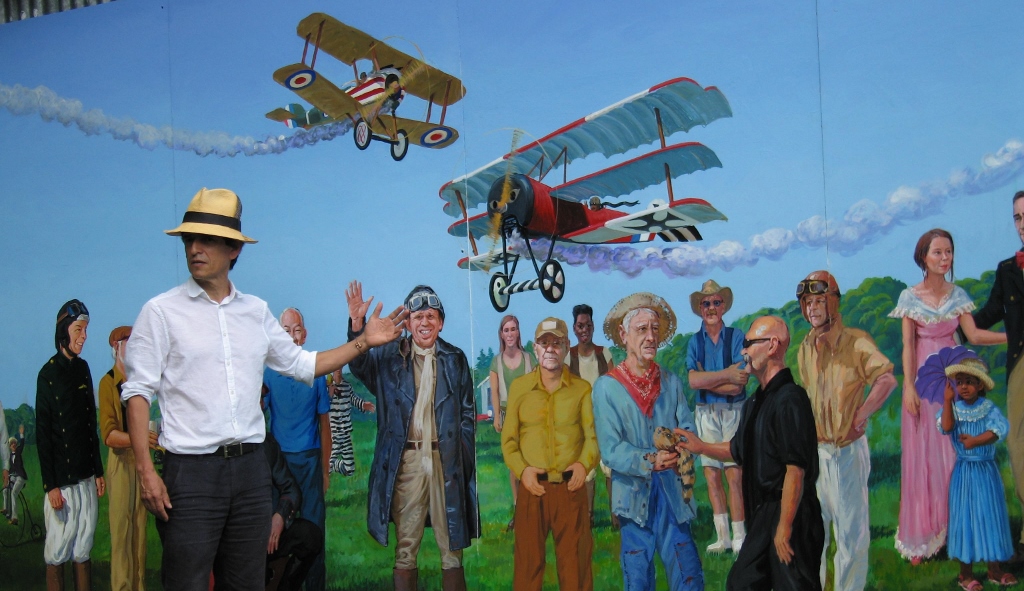 "Painting a mural always brings a positive energy to its surroundings," says artist Nestor Madalengoitia, and he truly has added even more vibrancy to the Old Rhinebeck Aerodrome with his latest creation unveiled there on Sept. 14.
Nestor is as renowned for his vivid depictions of people in historical settings as the Aerodrome is for its magnificent collection of antique aircraft and vintage vehicles, and he chose 18 personalities and two barnstorming biplanes to fill the colorful tableau at the entrance to the beloved local landmark.
Linda Martson Reid, president of the Dutchess County Arts Council, assisted in the unveiling ceremony. "This mural is a perfect example of what artists bring to the community," she told the assembled crowd. "Nestor did the research, and he's taken these portraits of people from diverse backgrounds and time periods together, so when people walk in, they can see the impact of what's happened here in this space."
Nestor was born in Lima, Peru, in 1959, coincidentally the year that aviation enthusiast Cole Palen established the Aerodrome on Norton Road in Rhinebeck.
Nestor's murals have brought walls to life in Peru, Canada, Florida, New York City, and Washington, D.C. He has been painting murals in the Hudson Valley for over 20 years and has lived in Poughkeepsie for the last 13.
"Some people call me an artivist," he is proud to say. "I was able to convey my ideas into work that makes a difference in Poughkeepsie." He is one of a group of artists who meet every Wednesday to discuss matters relating to the needs of Poughkeepsie, specifically with regard to the arts, and organize events such as Queen City Saturday.
It was Nestor's son, however, who led him to Rhinebeck and the Aerodrome.
"At 10 years old, he decided he wanted to volunteer, and everyone at the Aerodrome loved him and took care of him," Nestor explained, adding, "They care about the volunteers of all ages."
Some of those volunteers posed for Nestor's mural, which he began after he, too, decided to help out at the Aerodrome.
"I touched up some of the signs in the museum exhibits and saw this wall and thought maybe we could do something for the volunteers, Cole Palen's friends. That was the beginning. We struggled a little with the foundation, we primed the wall, but there was still some peeling. I removed the whole mural and started fresh, took it to my studio to finish," he says.
The mural took three years to complete. Nestor describes it as being an "ambassador" of the Aerodrome while it served as a backdrop for various cultural events in the Mid-Hudson Heritage Center on Main Street in Poughkeepsie, the location of his studio.
Bill Plowthress, 93, a 50-year volunteer at the Aerodrome and a pilot who still flies "every chance I get!" is portrayed at the center of the mural, surrounded by fellow pilots, volunteers in period costume, the "Black Baron," and Cole Palen himself.
He has high praise for the finished work. "I recognize everybody in the picture. It's amazing how lifelike they are," Bill said.
Colleen Cruikshank, executive director of the Rhinebeck Area Chamber of Commerce, also assisted with the unveiling of the mural and noted, "The Rhinebeck Aerodrome is world-renowned. Everywhere we go, people say, 'Oh, the airplane place, we've been there!' or 'We want to go there.' So it's a huge economic driver for the Rhinebeck area, and we should all be very thankful for it and very supportive because it helps all of us."
Said Michael DiGiacomio, president of the Aerodrome, of Nestor's work, "I provided him with pictures of past pilots and personalities, and then he also included people who presently are here. It came out absolutely beautiful."
Cole Palen's Old Rhinebeck Aerodrome
9 Norton Road, Rhinebeck
845-752-3200 www.oldrhinebeck.org
Facebook Comments