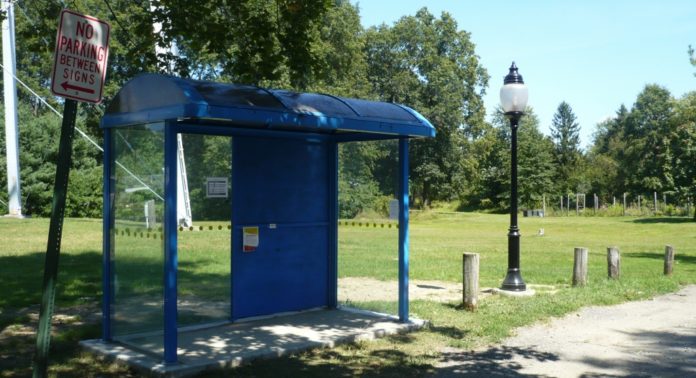 The village of Tivoli is creating a no-parking zone in front of the new bus stop on Pine Street.
The village board unanimously passed a resolution Sept. 11 to create the zone, which extends 150 feet, and is one of many new projects planned for the bus stop.
Deputy Mayor Joel Griffith told The Observer that he wants to add more to the site, including plants, benches, a bicycle rack, maybe even a "Welcome to Tivoli" sign.
"It's going to be a work in progress," he said.
The bus stop has come a long way since last winter when the concrete foundation was poured. In June, the Bard College shuttle and the Dutchess County LOOP Bus began using it, and it is now fully functional, with a working streetlight and a picnic bench.
"It's been functioning as we would like so far," Griffith said at the Sept. 11 board meeting.
The new bus stop replaces the de-facto spot on Broadway in front of the Tivoli Post Office. That stop caused roadblocks through the major street, which posed problems for ambulances and fire trucks that might need to pass by, Griffith said.
In addition, the old stop on Broadway meant that Bard students coming and going from campus gathered there late at night. Village residents and college administrators alike worried about the noise and congestion that resulted from such gatherings.
Bard College Transportation Coordinator Jeff Smith sees the new bus stop as an action that helps residents and students alike.
"It's a good idea," he said.
Griffith acknowledged that no one really wants a bus stop right next to his or her house. But Pine Street runs parallel to Broadway, and it doesn't change the bus routes at all.
"It's kind of like a least-worst spot," he said.
The new bus shelter was donated by Dutchess County through a program that provides the shelters to county municipalities. Bard College donated the lamppost. And Tivoli taxpayers paid for the concrete foundation and will pay for electricity for the lighting.
Bus riders appear to have made a smooth transition to the new stop, which is one block over from the Post Office. Taxi companies have noticed the change, too, leaving business cards inside the shelter.
Griffith invited local residents to become involved in the continuing work at the bus stop. He wants help, he said, with landscaping, planting, designing a bench.
"We want this to be nice for everyone who wants to use it," he said.
He added, "We're only a tiny village, so we need vitality in every little quadrant we can get."
Facebook Comments