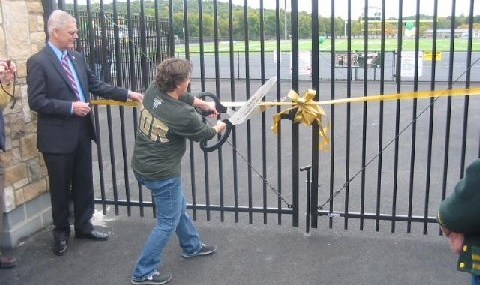 It has been a long time since the Jersey Boys made their No. 1 hit song, "Oh, What a Night." Hyde Park now knows the full meaning of those words after community residents turned out en masse for the grand opening of the new athletic complex at Franklin D. Roosevelt High School on Fri., Sept. 27.
The evening overflowed with emotion, pride, appreciation and one of the largest crowds since football first kicked off on the school field more than 40 years ago.
Opening the celebration at 5pm, Superintendent of Schools Dr. Greer Rychcik found it difficult to contain her elation.
"Words can not express what it is to stand here today to see a 46-year-old outdated track and field replaced," she said. "It is a tremendous boon for our schools, our community and, especially, for our students."
Amy McArdle-Rausenberger, Director of Physical Education, Health and Athletics, then presided at the ribbon-cutting, which opened the gates to the field to the public and began a new era for the Presidents and Lady Presidents of FDR.
State Senator Terry Gipson was also on hand for the celebration, praising the community and school administration for the efforts that brought reality to a major field of dreams.
As the bleachers filled up for the inaugural football game, a host of Roosevelt High athletes, representing fall, winter and spring sports, paraded onto the new astro-turf field, and five of the eight varsity football coaches who preceded current coach Brian Bellino were recognized for their service. The quintet were Pat Moshier, Bill Paccione, Dave Pisanelli, Bill Wall, and Harry Harrington. Unable to attend was the first coach at the present FDR site, Bob Bragg, who led the Presidents from 1964-1977, and Ted Peterson, who succeeded Bragg from 1978 to 1984.
Senior class gridiron players and senior cheerleaders were given a rosy recognition as game time approached. Also on hand was John Golden, a member of the original 1941 Roosevelt High football team. He was presented with a ball signed by the 2013 varsity team along with an updated version of his original No. 22 jersey. Then he was invited to toss the coin to decide whether Roosevelt or Saugerties would make the initial kickoff, while his wife of 63 years, Gloria, looked on.
Following a stirring rendition of the National Anthem by the school's combined choir, First Ladies and Presidents Men, it was time to play ball. And play ball the Presidents did. Inaugurating the field in style, the FDR team effortlessly beat Saugerties 50-7.
One of many cheerleaders on hand for the festive occasion, eighth grader Marqui Land, smiled and said, "It really makes me proud of our teams and our town."
Her sentiment was echoed by many others, including 1981 FDR graduate Johno Boryk, who had played football on the outmoded natural turf. Boryk said, "This is just fantastic and grand, something of which our community can really be proud."
Former coach and current trainer for the football team Pat Moshier, in his remarks, hoped the pride evidenced in the overflow congregation of community residents and the unanimous vote of confidence given to the school administrators, staff and board members would continue far into the future. "If you see a piece of paper on the field, pick it up, or if you see someone abusing the facilities, let them know your displeasure," he said.
The athletic site, which will be used by football, soccer, lacrosse, and track teams was reclaimed and restored following the successful passage by district voters of a referendum on its second try over a year ago. "It's amazing," said Board of Education member Dan Duffy. "We worked on putting this together over five years, especially hoping to provide a safe surface for track and field, and it spread out from that beginning."
For several seasons, Roosevelt High was unable to host a home track meet due to the unsafe conditions surrounding its outdated cinder track and unsafe field-event venues. A community effort — organized under the title of "Keep Hyde Park On Track" and steered toward success by Bobbi Goodman, Monica Relyea and Sarah Hoger Watson — was credited for its work in helping to bring about the dynamic change in the athletic facilities, which now include a digital scoreboard, new bleachers and a forthcoming modern track, all surrounded by gated landscaping.
Facebook Comments