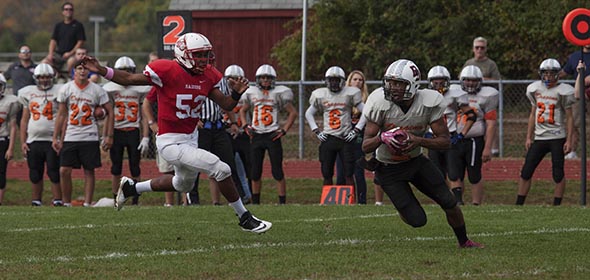 After a rough loss at Marlboro, Red Hook varsity football was jonesing for a win. And man, did they get one. The Raiders hung 59 points on Dover on Oct. 5, held the visiting Dragons scoreless, and beat them through the air and on the ground.
Red Hook was on the board three minutes in, after quarterback Nick Carlson hit Connor Boryk for a 15-yard touchdown; Carlson converted a two-point point-after attempt on a run. After forcing Dover into bad field position on a bad snap, Red Hook took over after a Dragons punt, and Dan Acosta took a pitch up the right side of the field for a 60-yard touchdown at 6:51. Another successful two-point conversion put Red up 16-0.
Dover tried to play conservative ball against the Raiders, going to the running game often, but it didn't help: after stopping the Dover ground attack and receiving the ball at the Dover 45-yard line, Acosta took it in for another touchdown at 2:33 and Carlson converted another two-pointer, putting Red up 24-0 heading into the second quarter. Raider Tim Terry then managed a big sack with :42 left on the clock.
The barrage continued in the second period. Carlson ran the rock in for a touchdown at 11:19 and converted yet another two-pointer to put the Raiders up 32-0. After Red Hook's Ben Zitz recovered a Dragons fumble at the Dover 25-yard line, Dustin Ducey took it in five yards at 9:52 for another six points. Head coach John Kravic relented a little, though, opting to go for one point instead of two on the point-after attempt. But moments later, after a Drew Zarella interception, Carlson ran half the field for a touchdown and converted the point after, putting Red Hook up 46-0.
The first half scoring campaign wasn't over yet. Raider Matt Hahn-Rauch recovered a fumble and then Raider John Alessi got in for a two-yard touchdown to put Red Hook up 52-0.
And then things got weird. After a half hour of halftime — extended because the ambulance assigned to the game took a concussed Dover player to the hospital — the teams returned to the field to find the refs calling a much tighter game against Red Hook.
"I can't really complain about the officiating too much," Kravic told The Observer. "I think maybe sometimes our kids were in bad positions, and the refs are starting to look for things when you have a game like this. They did a decent job."
Red managed one more touchdown on the game. Acosta took it in one more time with 2:34 left in the third quarter.
"Obviously, this was awesome," Kravic said. "One of the things was the points. We knew it would be important going into this game with things in Class B being so tight, You know, we came in, changed our philosophy, and got our points right away. Instead of deferring, we took the ball. We just wanted to make sure our offense was rolling. These kids, when they're clicking, can play with anyone… If we can keep the fire going next week when we roll into New Paltz, we'll be in great shape."
Red Hook is scheduled to host New Paltz at home this Saturday at 1:30pm.
Facebook Comments