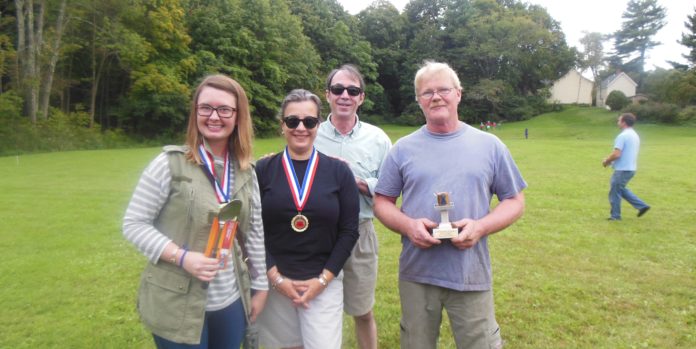 A healthy crowd of community-oriented chili enthusiasts gathered in Rhinecliff's Firemen's Field Sept. 14 as the annual chili contest crowned its new winner for the year.
And actually, he was last year's winner as well. Beating a field of seven entrants was Rhinecliff native Paul Butler with his Long-Cooked Beef Chili. His prize: $100. Second place went to Chris and Sharla Mullany for their Chili Verde with pork.
The chili cook-off was one of the highlights of the Rhinecliff Volunteer Fire Co & Rescue Squad's fifth annual Field Day. The other contestants were Joe Baer, Allyson Traver, Paul Yorke, Beth Crockett, and Oona Shain and her friend Jenn.
The judging was done by Rhinebeck Town Supervisor Tom Traudt, restaurateur, Dominick Sassone from the China Rose, and Carl Beach, co-owner of the new Corner Market, which just opened in August.
Oganizer Cynthia Baer said in a news release announcing the winners, "This was the best attended event to date. All the chilis were outstanding. I am glad to see so many neighbors coming out to hang out for a few hours. That's really what this is all about."
Next up for the Rhinecliff Fire Company will be its annual Halloween Party on Fri., Oct. 25, from 6pm to 8pm at the Firehouse.
Facebook Comments