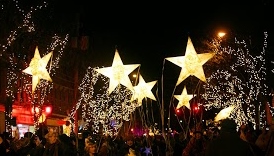 Rhinebeck is getting ready for the annual community-wide party that helps keep the village twinkling.
On Thurs., Oct. 17, the Rhinebeck Area Chamber of Commerce will host Cocktails at Sunset, which raises money for the lights that line the streets from Thanksgiving weekend until Valentine's Day.
"The little white lights, which illuminate our village all winter long, are only possible if we raise the funds required to do so," said Colleen Cruikshank, Executive Director of the Chamber.
"The event is designed to be a great party for the entire community," added Marybeth Cale, Cocktails at Sunset committee member.
The lights have been a village tradition since 1999, and Cocktails at Sunset is a community event to keep that community tradition.
"I think most of us can agree that the lights keep our village attractive all winter long," said Kristin Hutchins, a member of the Chamber board who is also on the Event Committee. "[They give] our town more life with people coming out to stroll and enjoy the experience of the village shops and restaurants."
The Chamber invites everyone to attend the party, which will be held at Belvedere Mansion in Staatsburg from 6pm-9pm. Tickets for Rhinebeck Chamber members are $85, and for non-members, $100. The event is supported by Rhinebeck Bank.
Tickets can be purchased by calling 845-876-5904 or by emailing info@rhinebeckchamber.com.
Facebook Comments