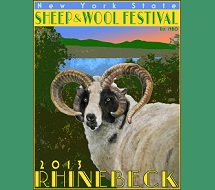 The Dutchess County Fairgrounds is about to get that sheepish look again.
One of the Northeast's truly special events, the Sheep and Wool Family Festival will take over the fairgrounds on Oct. 19 and 20.
Now in its 41st year, the event features hundreds of sheep, llamas and alpacas, as well as Angora and Cashmere goats, a fleece show and sale, Border Collie Sheep dog herding demonstrations, crafts vendors, book signings and more.
The festival, largest of its kind in the United States, showcases a strong and viable industry in Dutchess County and the entire state of New York, with two days of livestock shows and over 250 fiber artists and craftsmen presenting sheep-related products.
Dozens of food vendors will present everything from lamb stew to shish kabobs to hot fudge sundaes. Cooking demonstrations by professional chefs will be held in the Harvest Kitchen in the Arts and Crafts building throughout the weekend. Specialty foods and wine tastings will also be presented in the same building.
Children's programs include: a petting zoo, Canine Frisbee demonstrations, Ed The Wizard, a "Frogs, Bugs and Animal Shows," Mad Science demonstrations and "Tales of Yarn," stories for 4-6 year olds by Susanna Leonard.
Festival hours are 9am to 5pm on Sat., Oct 19 and 10am to 5pm on Sun., Oct. 20. Admission is $12 for adults; children under 12 are admitted free. Weekend passes are $17. Tickets can be purchased online in advance for $9.
For more information, a complete schedule of events, pre-sale tickets and directions visit www.sheepandwool.com or www.dutchessfair.com or call 845-876-4000.
Facebook Comments