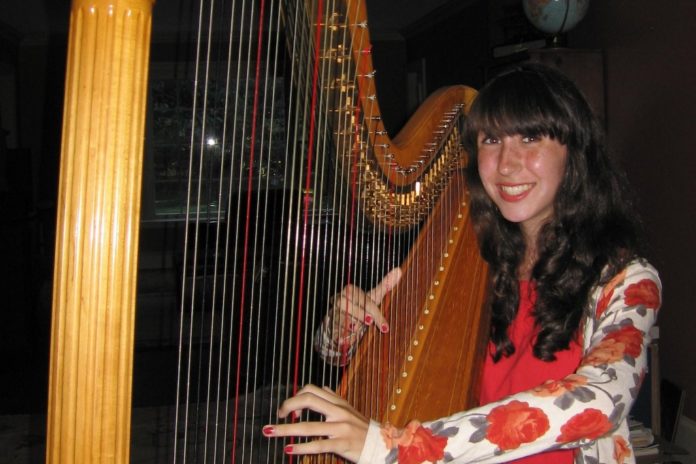 The Hudson Valley will welcome even more music to the area when the Northern Dutchess Symphony Orchestra opens its 2013/2014 season with a performance featuring the talent of an extraordinary young harpist.
Alexandra Vigil, now a sophomore at Red Hook High School, and her family moved to Red Hook from the Boston area only two months ago. She is about to perform with the orchestra– as both musician and chorus member – in their production of the opera "La Traviata" in Rhinebeck on Oct. 20.
"I've been treated as a professional, not a student," Alexandra, who is 14, said.
Kathleen Beckmann, artistic director and conductor for the Northern Dutchess Symphony Orchestra (NDSO), recalled how they found the talented teenager.
"Alexandra's mother inquired about harp opportunities with the orchestra. I sent the music for 'Traviata,' and then we went to their home and Alexandra played for us. She played the music beautifully, and we said, 'Okay, sure!'"
The NDSO struck its first chord in 2006 as a result of a handful of musicians sitting around a kitchen table, as Beckmann recalls. "It's been almost like a rocket ride, starting from scratch. It's gone remarkably well," she said.
The membership of the orchestra has grown to enable a production like "La Traviata" to use 26 musicians or a pop concert to use up to 50. "I think there is a niche for providing top-notch, quality performances that are comfortable for people," said Beckmann, who received the 27th annual Dutchess County Council of the Arts Individual Artist Award at their gala event Oct. 10.
The NDSO "home" is the Rhinebeck High School auditorium, for which Beckmann and the NDSO are very grateful. "I have to give the community of Rhinebeck a lot of credit to build this auditorium, and it is a lovely facility — for the school and the community," Beckmann explained. "The school has been wonderful working with us. Superintendent Joseph Phelan is supportive, accommodating, and committed to making it work for everybody."
At home, Alexandra's mother, Katya, guides a visitor through the many musical instruments in the house. She plays flute, her husband the violin, and Alexandra's sister plays bassoon. She discussed her daughter's three harps.
"We have quite a collection going now. The smaller one is portable, and the next size is a little bit different with levers on top. Alexandra changes the flats and naturals on the large harp with pedals," she said.
Alexandra was introduced to the harp at age 7 when she got a Melody Harp, sometimes described as one of the easiest musical instruments to play.
"I really liked it," she recalled, "and my mom said, 'Do you want to get a big one?' and I said, 'Sure.' "
Guy Peifer, the orchestra's director of marketing, said, "NDSO makes it easy and affordable for anyone in the mid-Hudson Valley to get a taste of the magnificent sights and sounds of opera. The opportunity for music lovers to experience the stunning voices of opera singers accompanied by a live orchestra is right around the corner. This production will feature a chorus of students from area schools performing with these world-class professional soloists."
As Alexandra herself says, "I think it's a great opportunity, and I think everybody should go see it."
"La Traviata"
Sun., Oct. 20, Rhinebeck High School Auditorium, 3pm.
Contact Guy Peifer 845-206-8178
guypeifer@ndsorchestra.org
Northern Dutchess Symphony Orchestra
P.O. Box 253
Rhinebeck, NY 12572
For ticket information: www.ndsorchestra.org info@ndsorchestra.org
Facebook Comments