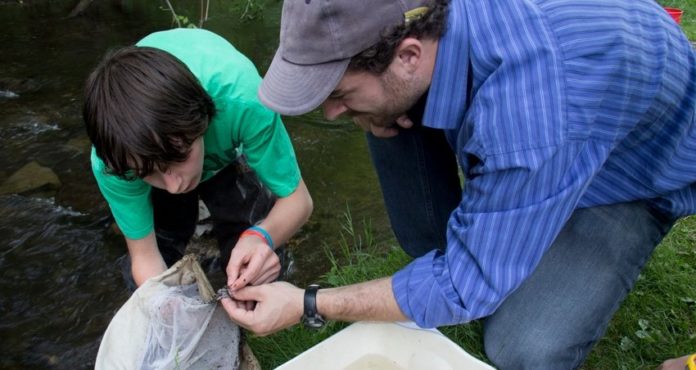 When it comes to Madagascar, there is probably a fair contingent of middle school-aged kids who don't know much more than what Dreamworks has taught them. Don't count the students at Rhinebeck's Bulkeley Middle School among them.
For the past three years, the Bulkeley students have studied the Ranomafana area of the island off the coast of Africa with the help of Dr. Patricia Wright, a Stony Brook anthropology professor and revered primatologist. Wright was instrumental in establishing the Ranomafana National Park through her Centre ValBio, a research campus on the island, which she created in 2003 in order to help conserve Madagascar's biodiversity and aid the locals.
"Working with her is like working with Buzz Aldrin if the kids were studying space," said Henry Frischknecht, the seventh-grade social studies teacher at Bulkeley who has worked with Wright.
With the help of Wright's graduate students based in Madagascar, Bulkeley's students corresponded with children in Ranomafana. The Rhinebeck students sent introductory letters and biodiversity packets on the flora and fauna in Madagascar. In return, they received photos of the area from the Malagasy children. This became known as the R-Villages program.
The graduate students came to Bulkeley on "Water Day," two years ago, an event were students learn about rivers and their importance to the environment. They helped teach the students the differences between New York's biodiversity and Ranomafana's. The town of Ranomafana was created when hot springs were found and the French created a spa in the area. Ranomafana translates to "hot water."
The link between the children of Ranomafana and Bulkeley is due large in part to Susan Cummings-Findel, the founder of Rhinebeck-based Sunshine Comes First, a non-profit organization that engages in conservation and global education. After Cummings-Findel visited the Ranomafana area while on a service trip, Sunshine Comes First connected Centre ValBio with the Rhinebeck school district and funded the first year of the R-Villages program.
In the past five years, the area has been devastated by cyclones. In 2012, a particularly strong storm came through the area.
"Their fields have been flooded… roofs have been blown away," Patricia Paladines, program officer for Centre ValBio, told The Observer.
The students at Bulkeley saw their companions were in trouble and responded. The school hosted a staff volleyball game and a Malagasy craft fair to raise money for a relief fund. In all, a total of $2,696 was raised and then sent to Centre ValBio to help out the people in Ranomafana.
"The end game is to get the kids to learn there is more than just Rhinebeck out there. I'm willing, and will continue the connection with the kids," said Frischknecht.
Facebook Comments