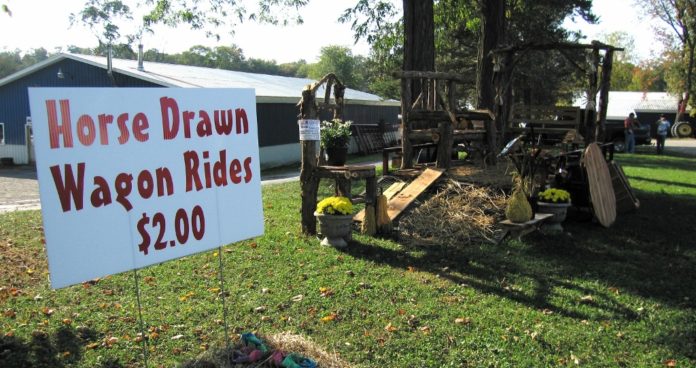 It's not unusual on a lovely autumn afternoon to see Frank Vosburgh encouraging a gaggle of giddy Girl Scouts onto his huge hay wagon, which he then pulls with a tractor around the 250-acre Kesicke Farm on Middle Road in Rhinebeck.
This is after the youngsters have enjoyed wandering through the corn maze, picking out their own pumpkins, visiting the petting zoo, and scrambling around the large, brightly colored "corn box." It turns out that thousands of kernels of corn are softer and way more fun than a box of sand.
Frank's grandfather, Frank Kesicke, bought the property, which at that time was "only" 126 acres, back in 1944. "He gave the farm to my mother, Barbara Kesicke, and my father, John Vosburgh," Frank explained. Frank's parents both died this year, his father in the spring, his mother only last month. Barbara Kesicke was an anesthesiologist who taught at Albany Medical College. She was also active in local politics and was well known in the area as The Corn Lady.
"She was a doctor, a farmer, and a storyteller," Frank recalled. "I believe that the farm has actually lost some business because so many people would visit just to visit my parents. The number of people who came here to talk to them, it was unbelievable. People have always come to talk about the history of the farm and the area. I wouldn't trade that for the world."
Frank has been farming here for 41 years, since he was 18. He and his wife, Cathy, have three children: Frankie, Steven, and Lisa. "That's the nice thing," Frank said, "our whole family lives here." He and his six brothers were given the farm by their parents, so all the families have homes in the area, except for one brother who resides in Michigan. "Our parents were good to all of us. We worked hard," Frank noted.
The Kesicke farm "stand" exemplifies the hard work. Two years ago, Frank decided to upgrade and constructed a barn-sized structure where customers can choose from fresh produce, baked goods, flowers, and coolers filled with USDA-certified beef, lamb, chicken, pork, and eggs. They also sell locally made ice cream and sorbet.
"This is much too big for a farm stand," Frank admitted. "We've discussed renting the space out for weddings. My parents were married on the farm. My son got married at Bard College, and we had the reception here."
Many family photos can be seen under the glass at the counter, including those of Frank's parents on their wedding day. On the wall is a beautiful framed black-and-white family portrait of four generations taken by a neighbor, renowned photographer Annie Liebovitz.
Libby M., who discovered Kesicke Farm last year while visiting from New York City with her young son in search of pumpkins, was so impressed that she wrote on her blog, "We spent about 3 hours at the farm, but we could have easily spent the whole day if we were prepared. It is a great family outing, with plenty on-site to keep Little Ones busy."
KESICKE FARM
221 Middle Road, Rhinebeck
www.kesickefarm.com
845-590-6942
Hours: Noon–6pm, Tues.-Fri.; 10-6pm weekends through Nov. 3. (Mon., Oct. 14, both store and the farm will be open 10-6.) Call to make appointments for school groups, field trips, birthday parties, special events: 845-758-5935
Facebook Comments