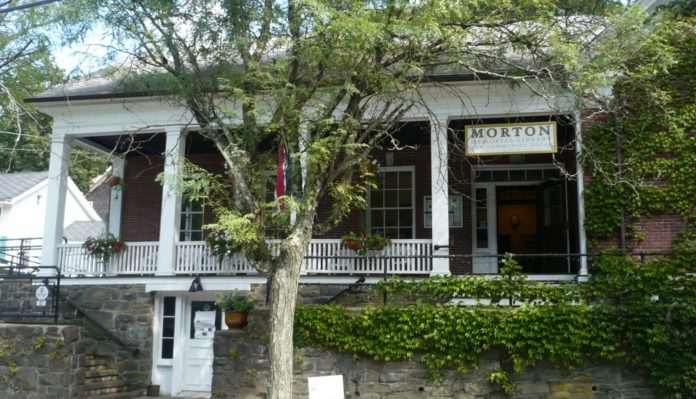 Morton Memorial Library and Community House of Rhinecliff is seeking to more than double its tax-payer funding, with a requested increase of $42,000 that will go to Rhinebeck voters in November.
The increase would bring the town's tax contribution to the library's budget to $77,000. Starr Library currently receives a tax contribution of $225,000 and is not seeking an increase this year.
In order to increase its budget, Morton library is subject to a 414 vote (so named because of the chapter of the state law on which it is based) on the funding proposition, which is put to voters in the general election. Currently, the library receives $35,000 from taxes, an amount that has not increased since the last 414 vote in 2006. Before that, the library received $12,000.
Steve Sansola, president of the library's board of trustees, presented the case for a budget increase to the town board in September, when he submitted 328 signatures the library needed in order to get on the ballot. By law, an association library like Morton must collect signatures of 10 percent of the electorate of the last gubernatorial election, or 295 in this case.
According to Sansola, the total amount of $77,000 will equate to $18.66 for properties assessed at $300,000, compared to the current amount of $8.49 with the $35,000 level of funding.
He acknowledged that the jump is a large one but also noted that the library had not asked for an increase in seven years. "It's unusual [to wait this long to increase] among Mid-Hudson libraries," he told The Observer. "We're making up for lost time."
With an association library, the town's role is to collect tax on its behalf and then pass the money on to the library. Sansola was there to inform the board of the library's intentions and ask for its support.
Board members seemed to have no objections to the plan. The library's budget does not impact the town board's budget and is subject to its own 2 percent tax cap, which the library's board of trustees voted to override at a meeting in August.
According to Sansola, the library's annual budget is $132,000. The library generates funding for its budget from two residential apartments on the property (about $29,000 per year) and income from its endowment (at the 4 percent rate approved for non-profits, or $26,000 per year) as well as the current tax contribution of $35,000.
All that funding still leaves 31 percent of the budget, or $40,920, to be raised through fundraisers, grants, and the annual appeal, Sansola said.
"We're really doing everything that we can as a board to manage these resources to sustain the library," he said.
Sansola said the library plans no significant changes that would cause the budget to increase this year but is pursuing the tax increase as a long-term funding strategy. "We as a board have really worked hard the last seven plus years to try to minimize that increase to taxpayers, trying to rely on other resources. … We have said to ourselves, it's just not sustainable given what we've been trying to do as a board," he said.
According to Sansola, the Mid-Hudson library system recommends that communities support their libraries at approximately 60 percent of their operating cost. He also said the additional funding is necessary to maintain the historic building, which was dedicated in 1908 after Anna L. and Levi P. Morton built it for public use.
Cost of new materials for the library, such as books and periodicals as well as wireless equipment and devices, have increased as well, Sansola said.
Use of the facility has dramatically increased in the last 10 years according to Morton's Executive Director Joanne Meyer. Meyer estimated that the library hosted about 400 events in 2012, including art shows, music events, children's programs, book clubs, and writers groups.
She said she enjoys seeing children transition from their initial shyness at entering a new place to ownership of a space where they feel comfortable. "They have a vested interest in keeping it alive, it's like they own the place, it's their mansion. Their sense of allegiance is wonderful to see," Meyer said.
Although the library's collection is relatively small, patrons have access to the full Mid-Hudson library system and Meyer said the library loaned out about 8,000 items last year. Electronic resource use has increased as well.
If the proposition is not approved by registered Town of Rhinebeck voters on Nov. 5, the library will get the $35,000 level of funding.
Facebook Comments