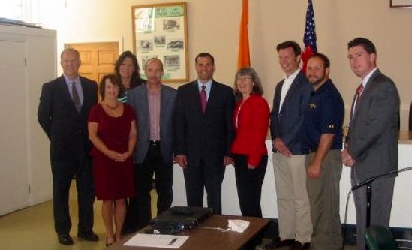 Payback Day for local municipalities, particularly Hyde Park, took place Fri., Oct. 18, at the Hyde Park Town Hall, as five local leaders met with County Executive Mark Molinaro and County Planning Department representatives to receive grants from the the 2013 Municipal Consolidation and Shared Services Grant Program.
At Friday's first-round awards presentation, Molinaro distributed $887,925 of the budgeted $2 million in the Shared Services program, which is designed to compensate for some of the county sales tax cap revenue-cutback to local municipalities.
The four supervisors present were Aileen Rohr of Hyde Park, Todd Tancredi of Poughkeepsie, Dave Kelly of Pawling, and Matt Kennedy of Beekman. Matt Alexander, mayor of the Village of Wappingers Falls, also attended.
The largest individual amount awarded in this initial round, $357,000, went to the Town of Hyde Park and the Town of Poughkeepsie for a joint proposal for automated highway salt spreaders. "The new salt spreaders will allow for less salt being spread for treating roads during severe weather," said Tancredi. "And by partnering with Hyde Park, we were able to obtain a quality discount on the cost of spreaders."
The second largest award, for $257,205, was also accepted by Rohr on behalf of Hyde Park and 11 other local municipalities for the purchase of Zoning, Planning and Building Department software upgrades. The municipalities include City of Beacon, the towns of Beekman, Milan, Pleasant Valley, Red Hook, Rhinebeck and Union Vale, and the villages of Red Hook, Rhinebeck, Tivoli, and Wappingers Falls.
Software Consulting Associates, a small company in Red Hook, was chosen to provide the combined municipalities with state-of-the-art web-based software services for tracking all building, code enforcement, planning and zoning activities.
The grant also covers a public website for contractors and residents to apply for permits online, track their applications, and get email notifications or text messages when permits are issued or inspections are completed, according to the company.
"By pursuing this product on behalf of 12 towns through shared services, we collectively reduced the cost by 30 percent, resulting in a savings to the municipalities of some $70,000," said Rohr.
She added, "I am pleased that the other municipalities joined with us to upgrade to 21st-century planning and zoning software. Together we can serve our residents and business developers more effectively."
The municipalities involved with the county's Shared Service program have 18 months to demonstrate the completion of their awarded program, according to Planning Department representative Eoin Wrafter.
The program was developed by Molinaro and the County Legislature to create some cost-savings to municipalities that partner on required services to help offset their decreased share of the county sales tax. When the county capped the sales tax revenue for municipalities, it called upon local leaders to streamline governmental services and make them more efficient and effective.
Molinaro praised the preparation done by the selected municipalities in filing mutual-benefit applications and the opportunity provided by the county for consolidation of planning.
He said, "We are the first county in New York State to put our money where our mouth is."
He also thanked the two Hyde Park County Legislators present at the ceremony, Sue Serino and Rich Perkins.
The municipal leaders present were in complete agreement that more consolidation of ideas and programs would continue in the future.
Rohr said, "It was a pleasure working with all the other municipalities, and, in particular, with Todd Tancredi on the upgrading of salt spreaders, in which our two town highway supervisors played an integral role."
Future shared service awards, according to Molinaro, could include health insurance collaboration and expanded workman's compensation consolidation. The second round of awards will take place at a later date in the City of Beacon.
Facebook Comments