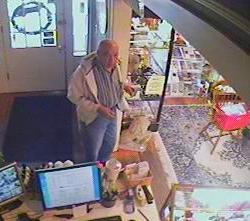 Hyde Park and Rhinebeck police are searching for a man believed to have committed grand larceny at two antique stores, one in each municipality.
The suspect first entered the Hyde Park Antique Center, located at 4192 Albany Post Rd., on Oct. 21 at 10am,and video footage shows him using keys or picking locks on jewelry cases, according to a Hyde Park police report. The man is suspected of stealing $5,000 worth of jewelry there.
The same man is also a suspect in a grand larceny that took place at the Beekman Arms Antique Market in the Village of Rhinebeck the same day at approximately 11:51am. According to a news release from Hyde Park Police, the suspect was observed entering the shop and may have used the same techniques to steal approximately $3,000 in jewelry there.
According to the news release, the suspect is a middle-aged, light-skinned black man, approximately 5'10, 180-200lbs, with short sandy white/balding hair who was wearing a tan jacket, striped button-up shirt and blue jeans. He may be driving a dark-colored sedan with possible N.Y plates. According to the release, the suspect is not known to any of the employees at either location and may not be from the area.
Anyone with information on these incidents or agencies with similar cases are asked to contact Detective Jason Ruscillo of the Hyde Park Police (845) 229-9340.
Facebook Comments