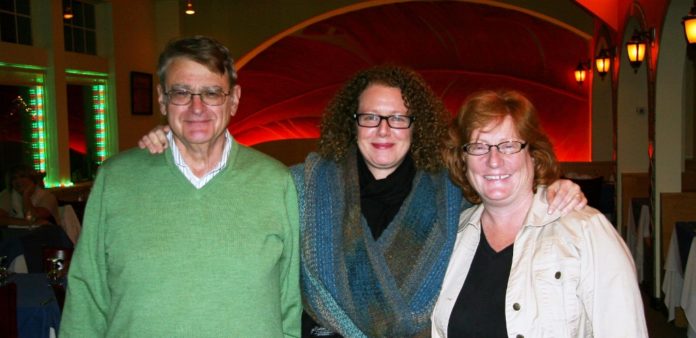 By Kristofer Munn and Sarah Imboden
The Democrats took Rhinebeck and two local County Legislator seats, while a Republican took the legislative seat for Milan. Those were the unofficial results late Tuesday night as the local races in Election 2013 came to a close.
The mood went from optimistic to jubilant at Gaby's Cafe in Rhinebeck where dozens of supporters of the Democratic slate had gathered. Cheers erupted as Democrats co-chair Barbara Hugo read unofficial results gathered by phone. By midnight, results on the County Board of Elections web site made it clear:
Democrat Elizabeth Spinzia, a member of the Town Board, was elected town supervisor and her running mates, Councilman Joseph Gelb and newcomer Elaine Fernandez, had won seats on the town board.
Mobbed by well-wishers, Spinzia was elated. But asked about her items on the agenda for 2014, she referred only to the ongoing budget process.
"We have a budget meeting tomorrow so I'm going to put [those thoughts] on hold until after the budget meeting," she told The Observer.
Over at the American Legion Hall, Rhinebeck Republicans would not officially concede Tuesday night, but everyone agreed the results looked grim.
"In my heart, I know it's not going to be the scenario we had hoped for," Supervisor candidate Wayne Rifenburgh told The Observer.
Rifenburgh acknowledged he was 109 votes down but said he would not concede until all the absentee ballots were counted. About 30 supporters awaited the results with Rifenburgh and his running mates, John Traver and Ryan Dowden.
The mood was tense but hopeful until reports from the various districts began arriving. Then the number-crunching began.
"We're down sufficient numbers so the absentee ballots will make the final determination," John Wirth, Republican party chair for Rhinebeck, told The Observer. He said there were at least 200 absentee ballots to be counted and estimated there had been a turnout of 3,000 voters in Rhinebeck.
"For an off-year election, that's a lot," he said.
Meanwhile, back at Gaby's, County Legislator Joel Tyner, a Democrat, arrived at the festivities to learn he had been re-elected to another term in District 11, defeating Republican Deborah Mimoso.
"I'm incredibly appreciative of being returned to office and I'm going to keep on standing up and fighting and working for the taxpayers of Rhinebeck and Clinton," he told The Observer.
Mimoso, at the American Legion, conceded her defeat, saying, "I tried my best, I'm very proud of the clean campaign I ran…The voters decided, I can live with what the voters decided if that's what they want."
In the race for County Legislator District 20, to represent Red Hook, Democrat Micki Strawinski was up 41 votes in her rematch against two-term incumbent Republican Ben Traudt.
With 104 absentee ballots still to be counted, according to the County Board of Elections, Traudt appeared unlikely to win the needed 70 percent of absentees.
Strawinski, a former Red Hook town board member who appeared on just a single ballot line, was confident the final tally would bring her victory.
"The people of Red Hook have decided they wanted a change in the County Legislature, and I am ready to represent them starting in January," she told The Observer.
In Milan, the unofficial results showed Republican Gregg Pulver, a farmer, had unseated Democrat Debra Blalock as County Legislator in District 19. Blalock was nearly 300 votes behind in the rural district covering four towns in northeast Dutchess County.
"I think it was a good race…I congratulate Debra for her service and look forward to the next two years of serving as a legislator," said Pulver.
Facebook Comments