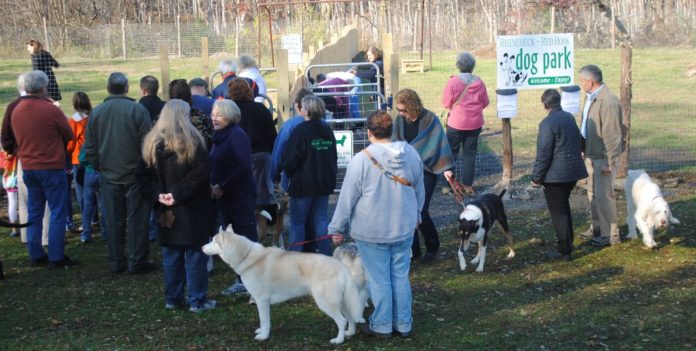 The dog days are over for canines in the Red Hook-Rhinebeck area, thanks to some devoted volunteers.
On Nov. 2, a community dog park opened on Stone Church Road behind the ball fields. A happy group of community residents and their leashed dogs gathered as Red Hook dog park coordinator Paul Piastro gave a speech before the gates officially opened at 11 am.
The park never would have been made were it not for the hard work of volunteers and donors, he said.
"We're really, really stubborn people, and we kept working at it," Rhinebeck coordinator and town board member Bruce Washburn added.
With the Red Hook and Rhinebeck town supervisors, Sue Crane and Tom Traudt, each holding an end, Piastro and Washburn then cut the official ribbon — and the dogs were turned loose.
Piastro, a retired sheriff, was voted head of the project in June 2012 and coordinated it with Washburn. Since then, they and a team of about a dozen volunteers have been hard at work clearing the area and building the park.
They dug more than 90 holes for the cedar fence posts, poured more than 150 bags of cement to hold them in, strung many roles of wire across them and created one enclosure for dogs under 30 lbs and another for dogs over 30 lbs, both with double-gate systems. They also planted a maple tree and installed a bench.
Piastro said he has worked on the project every weekend since September, except for when he was away to visit his new grandson. He still has ideas he wants to see finished when there's more money and time, he added.
The $10,000- $12,000 project has benefited from private donations as well as contributions from the Rhinebeck Animal Hospital, the town of Rhinebeck, the Dyson Foundation, Mac's Agway, and others, according to Piastro.
But one of the most personal contributions came from "Crazy 4 Canines," a club of area 4-H girls ages eight to 16 who learn about caring for and training their dogs.
The girls sat outside Mac's Agway in Red Hook asking for money with a handmade paper mache dog piggy bank, according to member Hanlon Crane. The club raised $150, including a $14 donation of their own.
Piastro was touched when the girls handed him an envelope filled with $1 and $5 bills at the club's meeting last month at the VFW Red Hook.
"It said 'dog park funraiser,' kind of scrawled in little-girl handwriting," he said.
The park will be open year-round and is open to residents and non-residents alike, at an annual fee of $20 and $25, respectively. The forms, along with park rules, can be found at the park. Permit applications can be turned in at the Rhinebeck town offices.
Piastro said the project has all been hard work, but was worth it. He thinks of his own dog, Milo, a Westie.
"He loves dogs, so I thought it would be good for him to socialize," Piastro said.
Correction: This story has been updated to reflect the fact that Paul Piastro has been working on the Rhinebeck-Red Hook dog park project every weekend since September and was away only once, for his grandson's birth.
Facebook Comments