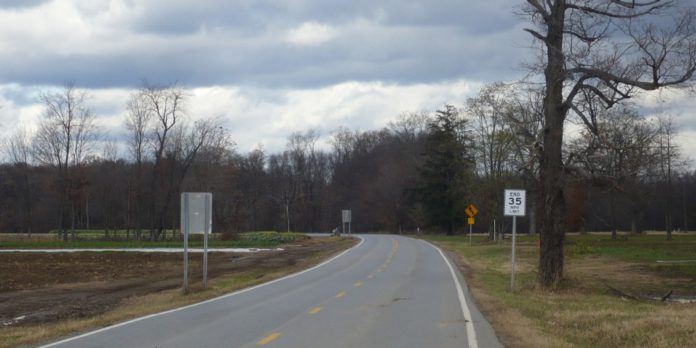 Red Hook's town board is seeking county permission to lower speed limits on a number of roads throughout the town and will also seek a state review of the speed limit on East Kerley Corners Road.
"This is the result of a number of concerns and investigations on the part of our highway superintendent and discussion with our attorney for suggested speed limit reductions on various roads that are problematic in Red Hook," said Town Supervisor Sue Crane at the board's Oct. 23 meeting, where a resolution on the modification requests was passed unanimously.
The requests, which now go to the Dutchess County Department of Public Works (DPW), seek:
• A speed limit reduction from 55 mph to 35 mph on Budds Corners Road from the Rockefeller Lane-Whalesback Road intersection north to Route 9G.
• A reduction from 35 mph to 30 mph on Whalesback Road from Budds Corners Road to Columbia Avenue.
• A reduction from 35 mph to 25 mph within four subdivisions:
— College Park, to include Harvard, Princeton and Amherst streets; Columbia and Cornell avenues and Vassar Road and Thayer Lane;
— Linden Acres, to include Elm, Fir and Alder streets; Albie, Aspinwall, Manor and North roads; Bard, West Bard and Sawkill avenues; Carriage and Meadow drives, Trow Boulevard and Zabriskie Court;
—Willow Park, to include Hewlett Road, Willow Drive and Morry Road;
— Forest Park, on Edgewood, Cedar, Birchwood, Overlook, Appletree, and Kalina drives as well as on Evergreen Lane, Shady Lane and Mountain View Court.
• Reductions from 35 mph to 25 mph on Echo Valley Road, Blue Echo Road, Willard Road and Deer Run Road.
The resolution also requests that the DPW do a study of East Kerley Corners Road, which is County Route 78, between Route 9 and Williams Road in order to reduce the speed limit from 55 mph to a more "appropriate, safe speed."
Councilman James Ross questioned grouping the town roads with the county roads in one resolution. "I know we'll have to go through the county for permission, but will one resolution do it for the whole bunch of them together?" he asked.
Town Attorney Christine Chale said it would. "We just need to submit a resolution, so if they come back to us and ask for follow-up we can certainly do follow up," she added.
Ross continued to question whether the resolution was adequate since Budd's Corner's Road and East Kerley Corner's Road intersect Routes 9 and 9G, which are state highways.
Chale agreed on adding the state Department of Transportation to follow the county DPW in the resolution.
According to Town Clerk Sue McCann, the town will be responsible for re-posting the speed limits on town roads and the county will do it on county roads, once approval is given.
Facebook Comments