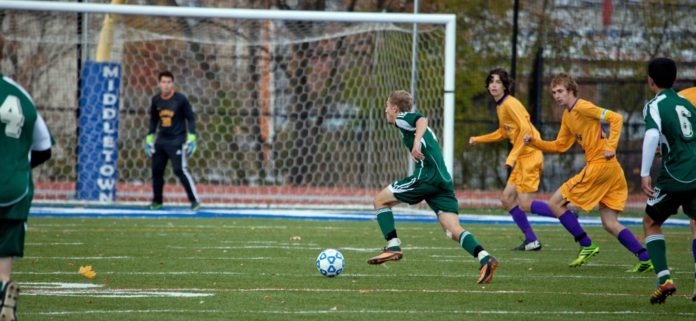 The guys in the PA box had some fun at Rhinebeck's Class B regional soccer championship showdown Nov. 8 against Section 1 champion Carle Place, playing "Let It Snow" and "Baby, It's Cold Outside" on the loudspeakers at Middletown's Faller Field as the first, albeit tiny, flurry of the year came down.
There wasn't a lot of room for levity, otherwise. The teams went into double overtime, until the Frogs of Carle Place took the win, 2-1, in last-second fashion.
Carle Place came out strong, and remained in control throughout the game. But Rhinebeck leaned on its talented half-field defense to keep things together, and that coupled with a few just-missed Frogs scoring opportunities, served to keep the Hawks in the game.
Rhinebeck actually got on the board first: Seth McClenahan scored 30 minutes into the first period, getting away from his defender and streaking 25 yards to net a one-on-one goal against Carle Place's goalie. After a tough save from Hawks goalie Eric Rodriguez — he'd have a few on the afternoon — Purple went into the half leading 1-0.
The Frogs re-mounted their offensive campaign in the second half, though, and Rhinebeck had trouble getting the ball past midfield to counter the heavy Carle Place offense. In the first half, Rhinebeck's break-heavy, isolation-centric offense worked, but in the second, the Frogs' settle-down, set-up-the-shot offense reigned supreme. Carle Place netted a shot in the 65th minute, and in the final minutes of the half took five corner kicks. McClenahan received a yellow card toward the end of the half.
The teams got through overtime #1 with no incident, and it took until the final two minutes of referee-regulated time for Carle Place to score the dagger. Setting up on a corner kick, the first shot was assisted into the net — but was called off because the corner flag fell down in the process. The second kick was similarly on the money, dropping in front of the goal and bouncing through a Rhinebeck scrum to ice the game.
2013 was hardly a disappointment for the Hawks of Rhinebeck, though; after making the jump from Class C in 2012 to Class B in 2013, the team finished on top of their Section — and on top of Section 4 after their semifinal win against Blind Brook.
Facebook Comments