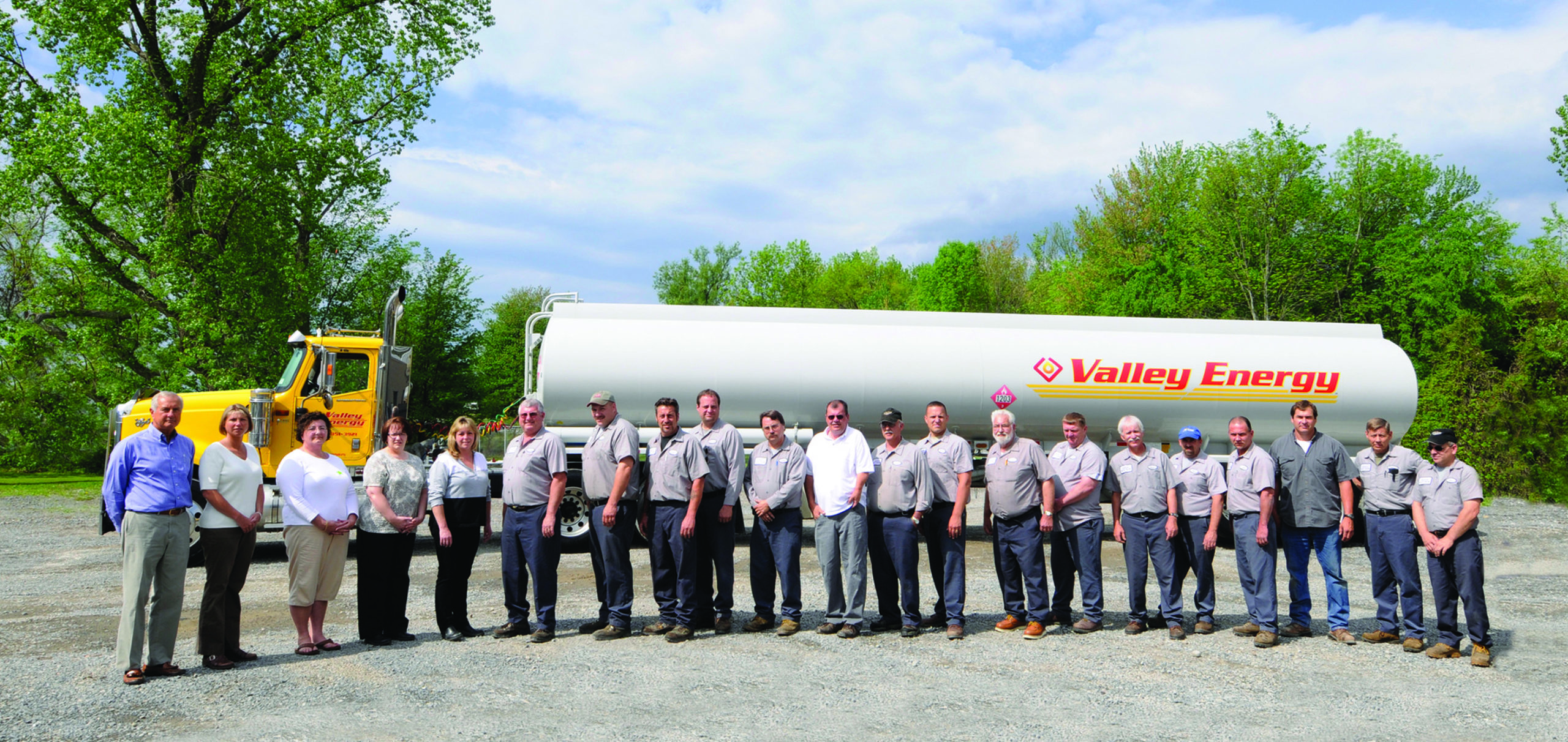 If anyone in the Hudson Valley is not yet familiar with Valley Energy on Route 9H in Claverack, it would be surprising, considering the commitment and enthusiasm of the company's sales and marketing director, Kim Keil.
Although she has only held the position for a year, Kim uses her own personal energy daily to expand awareness of the company's many fuel products, home services, and involvement in Dutchess, Columbia, and Greene County activities. In business since 1952, Valley also has an associate company, Miller-Wilkins, at 3525 New Street, Valatie; it is a smaller office but a big part of the team.
"I do a little bit of everything in the company," Kim explained. "I do driver training once a month and the federal OSHA (Occupational Safety and Health Administration) training. Heating oil is what we do all day long, 24/7, and we provide really good service."
Actually, fuel oil, gasoline, kerosene, propane, and on-road and off-road bio-diesel fuels, are but some of the resources provided by Valley Energy. Kim noted, "People don't think of us as providing water treatment service. When we offer a product, we install, instruct the customer, and walk them through it. We don't just sell our products. A big thing we do all the time is tank installation and tank removal. I work closely with the Columbia/Greene Board of Realtors and the Dutchess County Association of Realtors. Valley works with the New York State Department of Environmental Conservation when fuel tanks need to be removed from properties. No one will buy a house with a tank in the ground."
Valley Energy has a variety of wireless remote temperature alarms in addition to thermostats – programmable or non-programmable — that are especially helpful for businesses and vacation-property owners. The alarms automatically call out in the case of a drop in temperature or water leakage, and some also provide alarms for power failure, low battery or high temperature. Valley services also include humidity control, cooling services, air purification, and they are certified in New York State radon testing.
"We are always looking to expand; we want to become more diversified," Kim said.
What the potential customer will not learn from Valley's brochure or website is the company's community support, and Kim gave some examples: "Valley Energy belongs to the Columbia County Chamber of Commerce, the Rhinebeck Chamber, the Red Hook Chamber, and Greene County Chamber. We are part of Hudson Valley Bounty that supports local farmers and farming programs. They just held a terrific chili contest in October at the Riverfront Park in Hudson. We also really enjoyed supporting the local Business-to-Business Expo in September in Hudson. I am passionate about more industry developing in this area. Valley gravitates towards our local businesses."
Valley carries quality performance Renegade racing fuel and sells a lot to racecar drivers. The company is also proud to promote the racing car belonging to Jim Rajczi (Jim's Auto Body of Hyde Park) and his team. who are regulars on such local tracks as Lebanon Valley Speedway and Accord Speedway.
Rajzci said, "I had spoken to Kim Keil about corporate sponsorship, and she went to the Valley Energy people. They were receptive to the idea of giving me sponsorship on my racecar last April. Valley Energy is very supportive in helping local people, and I think it's a great thing they do."
Maureen DeKaser, who moved to Columbia County in September, is a new customer of Valley Energy. "Everyone was so pleasant and efficient. The technician was prompt and explained everything I needed to know. It really helped ease the stress of moving into a new home," she said.
Until the end of November, Valley Energy customers can choose from a variety of heating season offers: fixed prepay, capped budget plan, retail cash discount. Fixed prices will not change throughout the heating season, and there is a $50 referral program for new customers.
Valley Energy, 5848 Route 9H, Claverack
www.valleyenergy.com info@valleyenergy.com
24-hour phone numbers: Northern Columbia County: 518-851-3921
Southern Columbia County: 518-758-9431
Dutchess County: 845-876-3931
Weekday toll-free: 800-696-5552 Fax: 518-851-3930
Facebook Comments