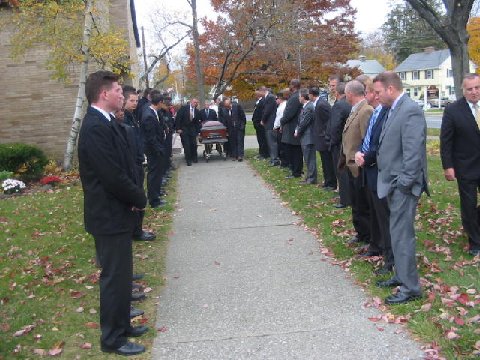 Some 50 sports players and coaches from FDR High and Mount St. Mary College were on hand as an honor guard to provide a stellar farewell to their mentor and friend, Duane Davis, at a packed service at Regina Coeli Church Sat., Nov. 9.
"Coach Davis," who was 73 when he died Nov. 4 at Vassar Hospital, was a man for all seasons in sports, family and community activity, and as the Reverend Brendon Fitzgerald said in his homily at the church,
"Duane was most definitely a man of integrity."
His son, Paul J, better known as PJ, summed up his dad's life best in saying, "He approached life as a servant leader. He never saw coaching as a job, as he did it for service to others, and that was a lesson he taught to me and my three sisters."
Davis began his coaching and teaching career in Hyde Park in 1974, and went on to extended stints at FDR High School and Mount St. Mary College in Newburgh. And his talent for instilling confidence and caring in others soon became paramount for his athletes, fellow coaches and family.
In 2013, Hyde Park gave testament to his influence in the community when he was selected to be Grand Marshall at the annual 4th of July parade.
In 1980, when Davis earned Coach of the Year honors, Superintendent of Schools Kenneth DePree, in a letter of congratulations to him, said, "The Board of Education is confident that it will always have reason to be proud of the teams you coach. As one board member stated, 'What you and your team did this year for Hyde Park was what the Olympic ice hockey team did for the United States.'"
That was the year the ice hockey team won the gold medal by defeating Finland and the USSR, and it was also "An Impossible Dream" year for the coach and his FDR basketball team when they journeyed to White Plains to defeat Scarsdale, 77-74, in a fantastic trek toward the Sectional championship.
It was a game that the losing Scarsdale coach cited as having included "the greatest half of basketball that I have ever seen." The Presidents went on to lose a hard-fought decision to Newburgh in championship play, but Davis was not disappointed in the quest made by his charges. He was quoted in the press saying, "For a while there, we turned the whole community upside down."
Davis followed up that memorable season by convincing DeMatha Catholic High from Hyattsville, Md., to play FDR High in the 1980-81 season opener at Marist College. At the time, DeMatha had one of the premier high school basketball quintets in the country, and while Davis may not have considered his winning chances to be too high, he did it for the community and his players, to give everyone a chance to see the best. Then, his players went on to scare the pants off DeMatha before falling short at the buzzer.
In 2004, "Coach" was inducted into the New York State Basketball Hall of Fame. He amassed over 400 victories among his teams at FDR and Mount St. Mary College; he founded the Dutchess County High School Basketball Association, the Dutchess Holiday Tournament and the All-Academic Team Awards; and he took the Mount St. Mary Knights to the post-season seven times on route to becoming the second most winningest coach in the college's history.
While basketball was a major part of his life, there was still lots of room for baseball in the spring. A diehard Yankee fan, Davis had a 25-year tenure at FDR High, during which he coached several players who earned trips into, or close to, the Major Leagues, including Ricky Horton (who went to three World Series with the St. Louis Cardinals and the Los Angeles Dodgers), Frank Cimorelli (St. Louis Cardinals), Jeff Pierce (Boston Red Sox), and Joe Bruno (Cincinnati Reds).
At Davis' wake on Nov. 8, Joe Brenner, a former player and assistant baseball coach at FDR High, praised the coach as someone who did not just "talk the talk."
Brenner said, "Coach Davis also walked the walk as well. He was to me, as he was to many others, like a second father, and when something would go wrong in my life, it was to Duane Davis that I would turn for advice, and I never was disappointed."
Several of the 50 former players and coaches expressed similar sentiments at the funeral services.
Among them was Bill "Duke" Paden, who played for Davis at FDR, went on to become his assistant at Mount St. Mary, and is now production operations manager for the National Basketball Association in New Jersey.
Paden called Davis "the greatest influence on my life along with my own father."
The plaudits went on and on throughout Davis's wake and funeral. He had gone through an ordeal of serious illnesses in his later years, but his complaints had been few, according to his family. In addition to his son, PJ, of Atlanta, Ga., Davis is survived by his wife of 50 years, Carol, and his three daughters: Karen Borin of Goshen, N.Y.; Diane of New Milford, Conn., and Jennifer Brennan of Valatie, N.Y.
As the funeral party exited the church, all the players formed a solemn path to the hearse, which would take their coach to St. Peter's Cemetery in Poughkeepsie.
Practice was over, the final score was put in the book, and Coach Duane Davis was at rest.
Facebook Comments