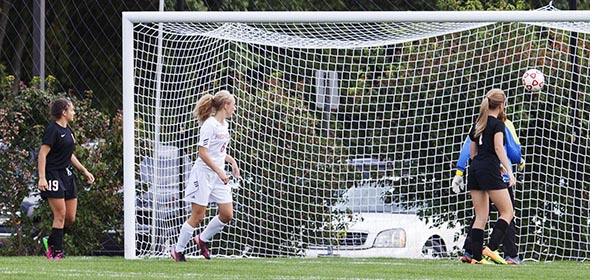 Field Hockey: Unsurprisingly, the Section 9, Class B field hockey title came down to Red Hook and Rondout, in a game played at the Milton Dome Oct. 29. The teams have faced off in five of the past six years for the divisional title, with Red Hook's Lady Raiders coming out on top once since 2009. They dropped the game 1-0 to the Ganders, but Red Hook goalie Alex Thiesen tallied 18 saves on the night.
Final Record: 7-6-1
Football: Red Hook clinched the final spot in Section 9, Class B football playoffs, but got chewed up by the Marlboro Iron Dukes, the tournament's No. 1 seed and one of the top teams in the region, on Nov. 2. The Raiders lost 45-21, but got on the board first.
Final Record: 4-5
Girls Soccer: Red Hook girls soccer ended their year the way area postseason athletics do – with a high-quality penultimate thriller. After taking Marlboro into penalty kicks the day after their championship meeting — the game was called due to darkness — Red won the PK round and advanced to face Goshen in the Section 9, Class A semifinals at Middletown Oct. 29. The Lady Raiders ended their season with a 4-0 loss to the Gladiators, the tournament one-seed.
Final Record: 11-5-2
Boys Soccer: The Raiders made their way to the Section 9, Class A quarterfinals on Oct. 30, but lost to top seed Wallkill, 1-0, in a game held at Wallkill. Zac Decker managed eight saves on the night.
Final Record: 7-8-1
Boys Cross Country: Red Hook had a decent showing at this year's Section 9, Class B cross country championship at Bear Mountain on Nov. 1. The team clocked a 1:33:15 with a racer average of 18:58.27 on the course, and came in 6th overall. Red Hook's Sam Gilbert placed 25th (18:25.79), Ryan Hicks placed 31st (18:45.12), Nick LaBarbera finished 32nd (18:48.22), Cortez Comesonas finished 37th (19:32.22), Liam Peterson placed 48th (20:01.32), and Skyler Fustos placed 50th (20:06.76).
Girls Cross Country: Red Hook's girls cross country team came in last on the Bear Mountain course on Nov. 1. Red Hook's Kaitlin McGovern placed 31st (22:45.00), Brianna McCann placed 35th (22:45.00), Alison Sagerman came in 41st (24:04.02), Kira Bruno finished 43rd (24:15.14), Caitlin Schmitz placed 46th (24:28.75), Nancy Guerrino placed 47th (24:35.28), and Rose Vigil placed 48th (24:49.81).
Volleyball: Red Hook varsity volleyball kept up the unlucky streak against Marlboro, falling in 4 sets to the Dukes in the Section 9, Class B final at SUNY New Paltz on Nov. 3.
Final Record: 11-8
Facebook Comments