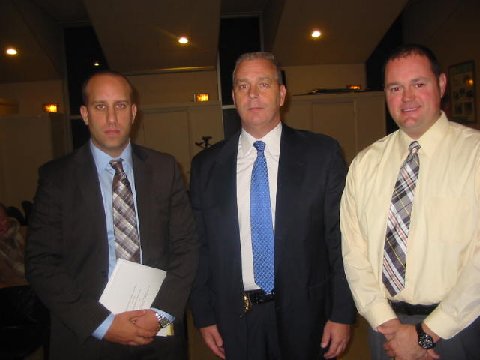 The Hyde Park police are hoping to add a new member to the force. The officer would come on four legs and focus on drug searches, locating missing persons, and criminal apprehensions.
The police request, which involves the use of a trained German Shepherd, is an attempt to restore the department's Canine Unit, which was abandoned several years ago.
Chief Eric Paolilli, accompanied by officers Kevin Watts and Bob Benson, presented their case for adding a K-9 officer at the Nov. 4 town board meeting.
He estimated that the initial costs would be approximately $7,000 for an imported German Shepherd and a revamped vehicle for transporting the dog, and $7,200 in additional salary benefits for a canine handler.
But Paolilli added that the costs of a trained dog would have minimal impact on the town because the Police Benevolent Association would raise funding for the program. He also stressed the benefits that a K-9 dog could bring to the police, especially in tracing missing persons and assisting in drug searches, along with "the return of any money to the department from successful drug searches."
Town Supervisor Aileen Rohr indicated that the board would like to investigate the possibility of sharing canine resources with other municipalities and the Dutchess County Sheriff and New York State Police before committing to the program, but promised the board would revisit the issue at its Nov. 18 meeting.
Councilman William Truitt, who served as the police department's canine officer before his retirement, recalled how the former Hyde Park K-9 dog, Adis, was instrumental in locating a disoriented elderly person from Kensington Village.
"And by saving one person, the value of a canine proves itself," he added.
Officer Benson indicated that Hyde Park police have sought assistance from the Sheriff's Department in the past, but the sheriff's K-9 is not always readily available when needed, because of contractual arrangements and time factors, particularly during night shifts.
Facebook Comments