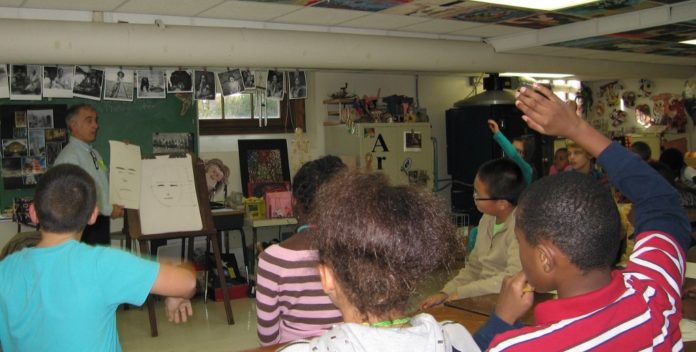 On a recent sunny afternoon in Joanne Wood's English class at Violet Avenue Elementary School, three fifth graders were given a chance to learn more than sentence structure. As part of an ongoing residency project with the Hyde Park School District, artist/teacher/actor Andrés San Millan was drawing the students' portraits and then teaching them how to do it themselves.
San Millan was obviously just as comfortable in the classroom as he is sculpting in his art studio or directing plays at the Cocoon Theater in Rhinebeck, which he runs with his wife, Marguerite. The students, Nysa Greene, Alejandro Sepulbeda and Naadjama Kpdbi, each took their time with him very seriously as they decided how to pose and whether they could hold a smile for 10 minutes. All three were quite pleased with the results, although Nysa asked the artist to add some extra detail to the texture of her hair.
The current project started three years ago, San Millan recalled. "I was doing portraits in my daughter's class, just as a volunteer, and then I got hired by the Hyde Park School District to do a residency that at first didn't involve portraits but does now. In three years, I've done almost 400 portraits, and by the end of this school year I will have done almost another 300, all the fifth grade students," he said. The portraits will be on display at the school district's annual art show in May.
After finishing the three portraits, San Millan proceeded downstairs to participate in Tomi Nonenmacher's fifth grade art class. "This project focuses on literacy, actually a means of encouraging the children to write," he explained. "The portraits are done with charcoal on a sepia background. It was Ms. Nonenmacher's idea to make a connection to the famous portraits done by photojournalist Dorothea Lange across the U.S. during the Depression." Copies of Lange's photos hang, clothesline style, at the front of the class for inspiration.
"We want to evoke emotion in the students," San Millan said. "We ask them: 'How do you use the visual arts to bring out emotion?'"
The energy of the approximately 15 students in the art class occasionally necessitated the artist employing a clever method of holding attention in order to take them through the simple geometric steps of drawing a face. ("Start by drawing an egg upside down…") Whenever the decibel level rose, he put down his charcoal and clapped loudly to a distinct rhythm that the students immediately knew to imitate, like the percussion section of a band. He was then able to continue with such advice as, "When you draw with a pencil, do not push it hard into the paper, because then you will not be able to erase it." Then he assured them, "It is all right to make mistakes."
Young heads bowed in deep concentration. Then the young artists compared their progress: "Is this too big?" "I know where the nose goes." "I think the eyes should be the size of a mini football." "Look at mine!"
Nonenmacher, who has been an art teacher for 24 years in the Hyde Park schools, said she very much enjoys working with San Millan. "We've had him come to our school for about five years," she said. "He's got such a unique personality, and he's an actor and can put on different personalities. The kids love it because it kind of calms them when he does the individual portraits. They like that they can keep the portraits after they have been displayed in the District Art Show."
Paul Scatenato, the director of Fine & Performing Arts for the school district, noted, "This is my eighth year in the district, and I've known Andrés for quite a while. He started by working on plays with the elementary school children, and he did a residency at the Netherwood Elementary School about celebrating everyone's heritage.
He has such a nice way about him, and that's with children of all ages. He really helped them to open their eyes to creative solutions and to the decision-making process that goes on when you're creating art, whether it's portraits or on stage."
Scatenato added, "I've also noticed that in observing him work with the kids, the teachers are also engaged in learning, getting ideas from how he approaches the subject matter, so it's serving as a little bit of professional development to the teaching staff, as well."
San Millan believes that the creative projects in the schools succeed because they affirm each child.
"They each get undivided and unjudged attention and time," he said. "It says to them, 'You are worthy of something because you are a person — not because you're good at math or sports or theater – just because you are a human being.'"
Facebook Comments