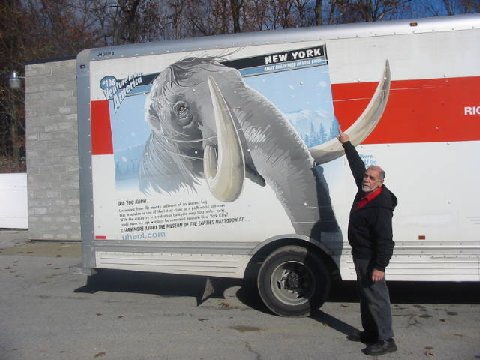 The Hyde Park mastodon, which was uncovered in 1999 during a backyard excavation on Haviland Road, seems to like its old hometown.
Despite the fact that its bones now rest in the Paleontological Museum in Ithaca, the historic creature still travels the country on the side of a U-Haul van.
And recently, it surprised Al Rand, proprietor of the Inspection Shop on Route 9G and a U-Haul rental dealer, when it showed up on a van being returned to his business site.
U-Haul uses depictions of various tourist sites — by states, historic treasures, and important moments in American history — on the sides of many of its vehicles, but Rand did not expect the Hyde Park mastodon to actually return to Hyde Park.
U-Haul's graphic depiction of the adult male specimen is quite dramatic and in keeping with the fact that it was one of the three most valuable and complete Mammut specimens in the world.
When Larry Lozier uncovered the first three-foot bone in his backyard, he quickly called in paleontologists to confirm his find. Larry and his wife, Sheryl, had no idea that they were residing atop the grave of a rare creature that roamed the world 14,000 years ago.
In June 2000, volunteers from the Paleontological Research Institute in Ithaca began draining the excavation site, but did not locate additional bones until August when several other volunteers from Cornell University, Vassar College, Dartmouth, Mount Holyoke, SUNY-New Paltz and the Boston Museum of Science joined the search. Within six weeks, nearly all of the remains of the mastodon were uncovered from the muddy site.
Paleontologists determined that the Hyde Park mastodon weighed approximately 10,000 to 15,000 pounds and roamed upstate New York around 11,500 B.C.
Sedimentary compositions from his resting place in Hyde Park also gave scientists clues about the flora and fauna preserved along with the skeleton. The plants provided evidence that the area was just on the south edge of the retreating ice glaciers 14,000 years ago.
The nearly perfect Hyde Park skeleton is one of more than 150 mastodons found within New York State over the past two centuries.
As far as Al Rand is concerned, the mastodon can come and visit anytime.
Facebook Comments