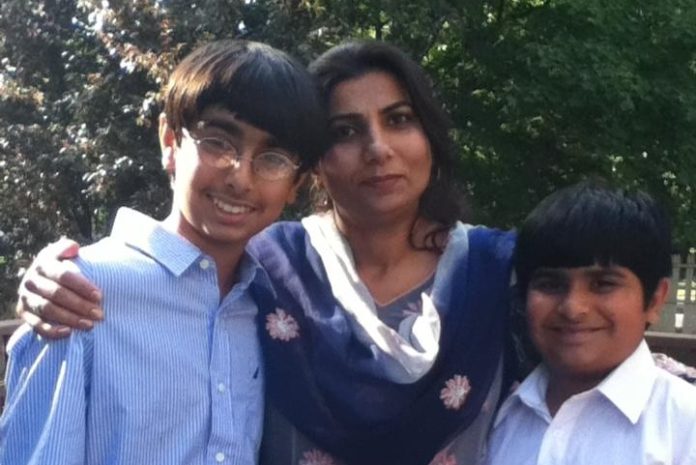 Christmas trees have now filled the space in front of Rita's Ices near the Haviland Shopping Center, but the void brought on by the deaths of Abbas Lodhi and his family has left a puzzled quietness at the small strip mall.
The mall's now-closed Hyde Park Pharmacy was run by Lodhi, a 49-year-old pharmacist, before he killed his wife and two sons and then took his own life two weeks ago.
The family deaths, in a brutal series of shotgun blasts sometime between Nov. 20 and 21, left everyone shocked, and puzzled as to why the tragedy happened.
LeAnn Miles, secretary at the Payless Oil Company, a neighboring business in the strip mall, said she knew Lodhi.
"There didn't seem to be any signs of trouble prior to the events …. Mr. Lodhi was kind of a happy-go-happy lucky person and was always nice to his customers," she added.
Miles, along with others along the stretch of local businesses on Violet Avenue, indicated that it has been very quiet at the shopping center and that very little is being said about the killings.
Jean MacArthur, proprietor of the MacArthur Wine and Liquor Store, mentioned, however, that Lodhi had appeared somewhat depressed recently.
"I had given him some advice on expanding his shop and he would come in to talk on occasion, but in recent weeks, I noticed that he was keeping more to himself," she said.
Lodhi, who was a state-licensed pharmacist since 1993, had run the small drugstore in the Haviland Shopping Center for four years until he reportedly sold it less than a month ago.
The door and windows to the closed pharmacy still bear several signs, including one announcing its closing.
But no one along the plaza saw any real sign of whatever trouble was brewing.
And state police, who conducted the murder-suicide investigation, could find no motive for the slayings.
According to the police, Lodhi shot his wife, Sarwat Lodhi, 43, first and left her body off Route 376 and Hackensack Heights Road in Wappingers Falls, near the Dutchess County Airport.
He then shot both his sons, Zain, 9, and Mugthba, 13, before turning the shotgun on himself in a locked car found in the parking lot of the A&P shopping center in Pleasant Valley. With him was one son's body; the other son's body was found at the family residence in Pleasant Valley. State police said a shotgun believed to be involved in the crimes was also found with the car.
Father and sons were found after a 911 call at 8:30am Nov.21 led police to the car in the supermarket lot.
The body of Lodhi's wife was found a day later after a 24-hour search and was discovered by a local resident who called 911.
With that discovery, the police announced that Lodhi had killed his family and then himself.
"We have now determined that this investigation is consistent with that of a murder-suicide," the State Police report said.
The two Lodhi sons attended Arlington schools. According to a message posted Nov. 21 by Superintendent Brendan Lyons on the school district website, Zain was a fourth grade student at West Road Intermediate School and Mugthba was an eighth grade student at LaGrange Middle School.
Even before their pronouncement, police had been calling the sad events "a family tragedy."
Sarwat and Abbas Lodhi reportedly moved from Pakistan to the United States in the 1990s and became U.S. citizens. Media reports said Sarwat Lodhi was to be buried in Canada, where she has family. Abbas Lodhi and his sons were reportedly buried together at an undisclosed location; Lodhi's family lives in New York City.
Facebook Comments