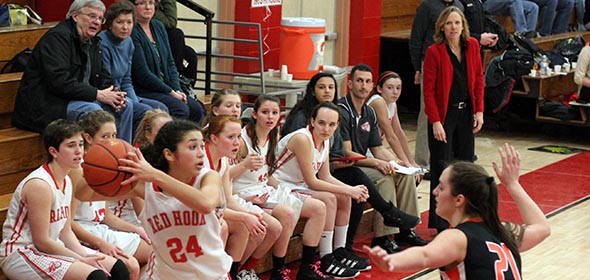 Led by top scorers Kyla Gabriel and Julianne Wilkinson, the Red Hook Lady Raiders varsity basketball team collected a cool 11-7 record last season and made it into the Section 9, Class A tournament.
Even though they were ousted by top-seeded Wallkill Panthers in the end, the team only dropped three games by more than 10 points on the season.
But their games hinged on the one-two scoring punch of Gabriel and Wilkinson, and coming into the new season, they're going to have to make some adjustments: Gabriel graduated, so did key players Raeanna Levenson and Ashley Pica.
"We've got lots of returning players, but with the loss of Kyla, who's a huge loss, and Raeanna, things change. It's a different group. It's a different dynamic — also we've lost Ashley… It's pretty early to tell how things are going to go, but we've got good speed and good talent," head coach Pam White told the Observer.
White added that it's unlikely that the team will make a seismic shift from its shooting guard-centric style. In retaining Wilkinson — who made the New York State Sportswriters Association's Class A All-State eighth team — White still has half of her offense. And to fill the space of Gabriel — a Class A All-State ninth teamer — she's got a couple of options.
"I'm hoping that everyone steps up," White said. "I'm hoping that Ciara Burud can pick up some of the scoring this year. She's a strong defender and a good athlete, who can rebound also."
The coach said that she's looking for Shannon Yearwood and Jess Wilkinson, Julianne's sister and another quick scoring guard, to fill the new scoring role. Unclear so far, however, is whether either will play the role of the cutting, dishing guard position that Gabriel played, which helped open up the floor for the rest of the Lady Raiders.
Of equal concern for the Lady Raiders is filling the forward and center positions, a weak spot in last year's squad that may need some fixing this season. With the loss of Pica, the team's go-to combo forward/center, the team's front court will run through Marist Parr. Parr teamed up with Pica last year in the post. Levenson was also valuable at the forward position. Also returning for her senior year is Talia Stortini.
"Marist will hopefully play a big role inside. She's our biggest player, physical and tough, and we need her to score and rebound this year," said White.
White admits that the team petered out toward the end of last season, dropping must-win games to both Highland and FDR in the final few weeks. But, White added, the team will remain focused on its goal of grabbing the Section title and playing in the state tournament.
"Really," said White, "We're looking forward to playing everyone this year."
So keep an eye on the Lady Raiders in 2013-14. They'll have a fast-paced offense and a bummer of a playoff loss to avenge.
Red opens up at home on Mon., Dec. 9 at 6:30pm against Rondout Valley.
CORRECTION: The original version of this article did not mention returning senior Talia Stortini.
Facebook Comments