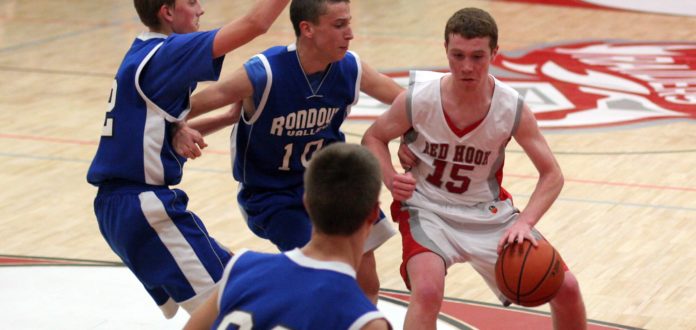 The mojo might be back for Red Hook varsity basketball this year.
Sophomore head coach Matt Hayes will be competing with a taller, stronger crew in 2013 and trying to right the ship a little after a 10-9 season that saw the Raiders bounced by Saugerties in the quarterfinals of the Section 9, Class A tournament.
Red will be running with a starting roster of 13 players, one of whom — Nolan Dalton — will ride the bench until an injury sustained playing lacrosse for Red Hook last season is healed properly.
The Raiders will be rolling with seven returning players, and a starting lineup of guard Paddy Parr, forward Luke White, 6'6″ center Will Avis, small forward Dennis Hare, and guard Nick Michitsch. Key players who graduated included Nolan Parr, Gabe Insogna, and Mike Rogers.
Avis is going to be a boon for this Red Hook team, which was strapped for size last season. He's a big skilled center, which is good because they were playing forwards at the center position last year. According to Hayes, the center has put on weight and improved his game significantly.
"Will's gotten significantly better. He's had a great offseason and he's definitely catching a lot of people's attention," Hayes told the Observer.
There will be no change to the Red Hook coaching staff. Kevin Cayea will continue to coach the Red Hook junior varsity squad, and Ryan Butch will remain in control of the modified; both will help coach the varsity. Hayes kept largely quiet on what coaching changes would be made going into 2013-14, but said that every year his coaching strategy has to change significantly, rather than adhering to a strict system.
"I'm not one who uses the same system every year. Honestly, it doesn't make sense — you have to structure your offense and your defense on your available personnel. Of course, there will be some things from last year that we do the same, but we have a number of different looks on offense," said Hayes.
"Some things will carry over. You don't want a blank slate every year, but you have to mix things up to see if something else will work. You become a lot easier to scout if you run the same thing year to year," he added.
Hayes said that team has a number of goals for 2013-14, including taking the Dutchess County Basketball Coaches Association Holiday Tournament crown and winning the Mid-Hudson Athletic League Title. But the big fish is the Section 9, Class A title. Since jumping into the A Division in 2008-09, Red Hook has won the title twice and competed for it two more times. Last season was the first since the team's step-up that the Raiders weren't in the mix for the championship.
"There's still a lot we have to improve on," said Hayes. "But from all of the experience last year — all the excellent teams we played — there are a number of coaches around here that say this is the best basketball that they've ever seen in the MHAL. There were state tournament finalists, sectional finalists. From all that, our kids have a lot of experience."
In typical Red Hook basketball fashion, both Raiders and future Raiders have been playing basketball year-round to get in shape for the regular season. Hayes said that the team had an open gym three days a week in the summer, and that most of his players played on Red Hook Men's League summer ball teams – not to mention those who played AAU hoop to keep in shape.
"Honestly, I couldn't be any better with how we're looking in practice," Hayes said. "They've put in the hard work and I'm hoping that it pays dividends.
Red Hook opens the season with two games in two days, the first at Rondout Valley on Dec. 9 at 5:30pm and the second at home against Pine Plains on Dec. 10 at 6:30pm.
Facebook Comments