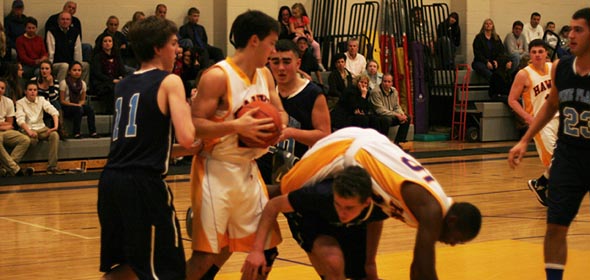 Rhinebeck's varsity basketball team spent the 2012-2013 season looking in from the outside on a two-way race between John A. Coleman, an athletic, high-flying squad, and Pine Plains, with its taller starters. But things should be a little more even in Section 9, Class D this coming season — with the Pine Plains' superstar Lydon brothers out of Bomber uniforms and Coleman looking a little raw — so the Hawks have a chance to capitalize.
A key to their chances this year, according to Rhinebeck head coach David Aierstok, is center John Walsh. Walsh, at 6'4", didn't play heavy minutes last season, and Aierstok thinks he had trouble keeping up with the push-oriented Rhinebeck offense. But Aierstok said that the center has upped his game greatly, and is ready to anchor the Hawks.
"He's worked hard, he's in better shape, and he's definitely going to be a big benefit. I'm definitely excited for him, and I'm looking forward to seeing what happens in in-game situations," Aierstok told the Observer.
Wes Miller, new to Rhinebeck varsity, will be Walsh's backup in the center position.
Aierstok also thinks that finding a way to change his team's up-tempo offense into a two-way threat is how the team will take the next step.
"It's all about pushing tempo. It's really the $64,000 question, because the problem is your best scorers aren't your best defenders, and your best defenders aren't your best scorers. I think that gap is closing this year," Aierstok said. "It can't be all about the speed this year. The guys who are more fundamentally sound are going to play more."
Rhinebeck basketball supporters know exactly what the coach is talking about.
On the break, the Hawks showed promise last season, often busting down court on steals and inbounds plays, but failing to finish from mid-range or under the hoop. Three-point percentage wasn't necessarily an issue, but it wasn't at the front of the team's agenda.
Aierstok said that this year the Rhinebeck players will keep their high-speed offense, but will also have to learn to settle down.
"We're going to be coming up with more, new sets this year to put people in the position to score. We definitely need to score the ball more — that's one of the big things that comes along with being coach: figuring out how to set things up better," he said.
"Pressing, half court sets, putting people out front. You've got to change it up and play to people's strengths. A lot of it has to do with scouting the opponents," he added.
Aierstok acknowledges that taller teams are going to give guard-heavy Rhinebeck trouble, but he is confident in his players.
In addition to Walsh, Rhinebeck will be returning Nick Hoynes and Eric Rodriguez, both of whom are fast, heads-up guards, with Rodriguez playing the role of cutter and Hoynes the role of shooter. The addition of a speedier Walsh will help the team spread the floor and rely less on constant fast-break ball.
"Coleman's the favorite (in the division)," said Aierstok, "And I don't want to disrespect anybody, but we're right there ourselves, with Millbrook."
If Aierstok's plans to take a little bit of the speed off the rubber-burning offense and replace it with fresh sets works, Rhinebeck could be a serious threat for the sectional championship.
Rhinebeck opens up at home against division-foe Webutuck on Dec. 19 at 5:30pm.
Facebook Comments