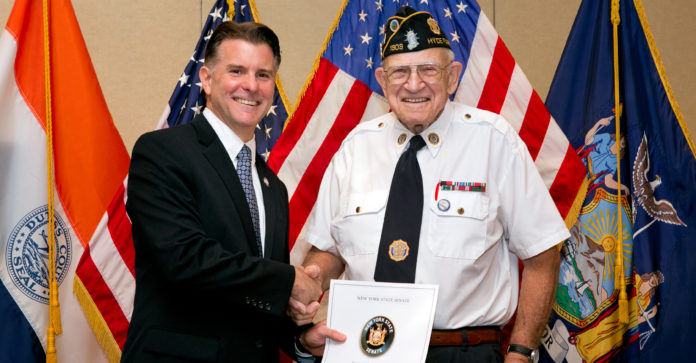 Three local veterans were honored recently at the 41st Senate District Veterans' Hall of Fame during the first annual Veterans & Families Fair.
The veterans were nominated by their local veterans organizations for the work they do supporting their fellow veterans and their community. They are:
James R. Stone, Jr., nominated by American Legion Post 429/VFW Post 9255 of Rhinebeck. Stone enlisted in the U.S. Marine Corps in 1943 and served with the 5th marine anti-aircraft artillery Battalion, G Company during WWII. He has been a member of the American Legion for 67 years and has served as 2nd Vice Commander, 1st Vice Commander, and Commander. He is also a life member of VFW Post 9255 and the Rhinecliff Volunteer Fire Department.
William von Blomberg, nominated by VFW Post 7765 of Red Hook. von Blomberg enlisted in the U.S. Navy at the age of 17 and served during WWII. After basic training and a hospital internship, he was assigned to the US Hornet where he remained until 1946. He became a member of the VFW Post 7765.
Ralph J. Osterhoudt, Sr., nominated by American Legion Post 1303 of Hyde Park. Osterhoudt served in the U.S. Army during WWII from 1944-1946. He received his training in communication and artillery pieces and was assigned to the EuropeanTheatre. He served in many locations, including South Hampton, England, Le Harve, France, "The Colmar Pocket," and the Rhine Crossings.
New York State Senator Terry Gipson (D-Dutchess, Putnam), said in a news release on the event, "It is a privilege to represent a district with such a great tradition of service. Every veteran deserves recognition for their service to our great nation, and it is an honor to recognize these local veterans who have gone above and beyond to continue their service in our communities."
The fair, held Sept. 28 at the Ramada Inn in Fishkill, was supported by Central Hudson Gas and Electric Corporation, Health Quest, Hudson Valley Federal Credit Union and Bridgeway Federal Credit Union.
Correction: This story has been updated to reflect the fact that incorrect information in a news release resulted in Ralph Osterhoudt Sr. being listed as Jr..
Facebook Comments