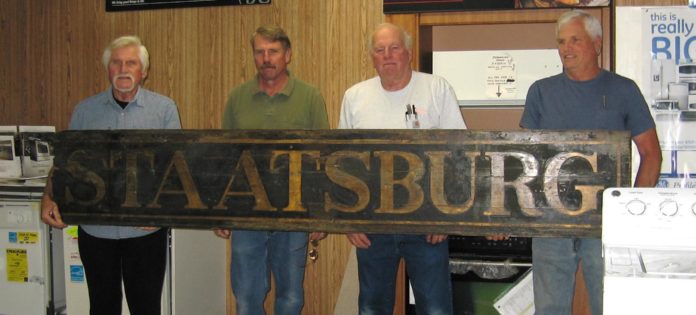 Another favorite Rhinebeck family business will close its doors by the end of this year, but the name and the service will remain as dependable as the family's history is long.
Hobson Appliance on Route 9 has been a landmark business greeting drivers headed north into the village since the 1950s. But the family began serving their community well before that decade.
Their roots go right back to the Old World. Pieter Van Stoughtenburgh, born in Holland in 1613, came to the Colonies in 1635 and eventually became Treasurer of New York City. One of his grandsons, Jacobus, was the first colonial settler in Hyde Park in 1741, and it was Jacobus' daughter, Hester, who married Charles Edwin Hobson from Pleasant Valley.
George Lewis Hobson was born in 1909, the last of Hester and Charles' 10 children (at least) and the first in many years to choose a vocation other than farming.
George received valuable radio training after he enlisted in the U.S. Navy in 1926. As a civilian in 1934, he started a small radio business, first in his sister's garage on Primrose Hill Road, then on East Market Street in the village. His first store, which sold and serviced radios and small appliances, was housed where the firehouse is now located, and his next was in a second-floor space further west down the street, above what was then Battistoni's Real Estate.
By the early 1950s, Hobson's could be found in the stone building on Route 9 that is now the Match Box Cafe. Then George purchased the current property on the corner of Mill Street and built the store that still stands there today.
Along the way, the inventory also expanded: from radios to televisions and then washers, dryers, and refrigerators (although Hobson would always be the place to turn if your waffle iron went on the fritz).
However, the beginnings were meager, as a meticulously detailed and preserved business ledger dated 1935 shows:
"6 gallons of gas – $1.
30 cents for oil.
$1 for 'eats'.
Pilot light for a radio – 10 cents.
Service call – 25 cents."
"It was the Depression, and possibly the whole day's income would only be $1.10," explained Gary Hobson, one of George's four sons.
Gary, Don, Jim, and Dale Hobson have kept Hobson's business thriving and its reputation for great service growing for decades, but they prefer to measure the time in the combined number of years they have put in: 190 and counting!
Don has been there for 59 years, Jim for 53 years, and Gary for 48 years, after serving three years in the U.S. Army. Dale, the youngest, still has over 30 years of experience, and he is committed to carrying on the Hobson service tradition after the building and property are sold.
"Many of our children and grandchildren have worked here, but none of them wanted to stay on," said Dale, explaining why the store is closing. "We are transforming ourselves into an appliance repair organization."
Jim Hobson added, "We're sorry to be leaving… but we're getting old! Thanks for everybody's business for all these years they've been supporting us."
In the store itself is a mini-museum — set up in a nook just past the microwaves — that clearly shows that this family treasures the history of the area and the part they have all played in it.
Amongst the memorabilia and relics — probably as valuable as any seen in local historic sites — are a crank-style Victrola (for sale), a baby carriage, an Army helmet, many framed vintage photographs and posters, and, of course, a 1959 Philco TV with a sign that says, "We sold these new!"
Perhaps this was the TV that George used to tempt customers into his store.
"TV was starting to come in, by the early '50s it was booming," Gary recalled. "Dad put a TV in the window, and people would stop and watch outside."
Lorraine Houghton, who moved to Rhinebeck from Long Island almost 40 years ago, has been working at Hobson's for most of that time, probably accumulating as much know-how as all the Hobsons, since Gary calls her "the Boss."
She has an idea that Gary's collection might have served the same purpose as his father's TV in the window.
"People come in and ask about the pictures and objects, they just can't believe some of them," she said. "Some people also donate photos. It was an idea to bring people in."
While the Hobsons are eager to say they've lugged their last appliance up a flight of stairs, Lorraine's perspective is more bittersweet.
"It's sad that it's closing. But it's time," she admitted. "They've been wonderful people to work for. It's been an honor working with them."
Hobson Appliance has not set a firm closing date yet, but the sons say it will likely be at the end of the year. They also want to remind customers holding gift certificates to the store to bring them in to use on any new or used appliance.
Hobson Appliance
6282 Route 9
Rhinebeck
845-876-3102 – remains the same after store closing
Facebook Comments