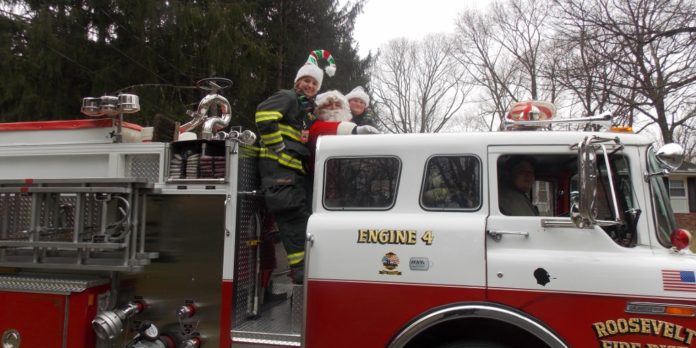 Santa stopped in to see the kids in Hyde Park when local fire departments gave him a lift to various parts of town Dec. 7 and 8.
The Hyde Park Fire Department held their third annual Santa Run Sat., Dec. 7 and reached about 300 children with gifts and holiday cheer.
Santa and his Elves, played by 12 crew members, distributed coloring books, candy canes, and fire helmets purchased by the department to children they encountered as two trucks worked their way to the center of town, one from Huyler Drive to the north and the other from Farm Lane to the south.
Ray Davis, Treasurer and member of the Board of Trustees for the department, told the Observer that the event "gets larger every year." Previously, the department visited about 150 children, but this year the number doubled due to adding a second route and publicizing the routes ahead of time. If families with disabled children called ahead, firefighters visited the children in their homes.
Davis said next year they hope to designate specific spots within apartment complexes, such as Hyde Park Heights, in order to reach even more children with the same number of trucks and crew.
On Dec. 8, stations 1 and 2 from Roosevelt Fire Department covered the Cream Street and Greenfields areas. Firefighters distributed 600 candy canes to youngsters as they made their way through their respective districts. Roosevelt 1 continued the distribution in the Cardinal Road area Sat., Dec. 14, while the Roosevelt 3 volunteers held their annual Christmas Party for Haviland Road, Franklin Road and Harbourd Hills families at the Bill Reynolds Boulevard firehouse Dec. 15 at 1 p.m.
Santa was on hand once again, along with gifts and refreshments for attendees.
Facebook Comments