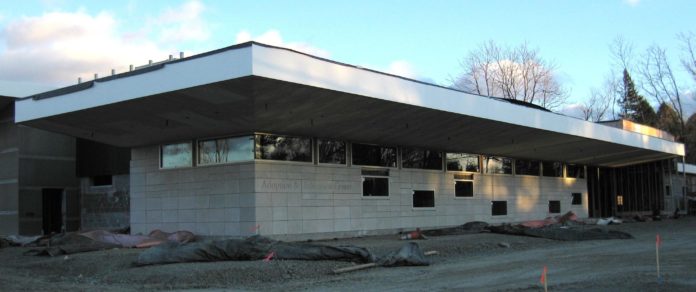 On a recent Sunday afternoon at the Dutchess County Society for Prevention of Cruelty to Animals (DCSPCA) on Violet Avenue in Hyde Park, the pace was as frenetic as a happy puppy.
Outside in the dog run, prospective adopters were getting to know a small brown mutt who seemed anxious to please, as a couple was being led away by an energetic Chihuahua, really eager to get to its new home. PJ Leo, canine training manager, strode out of the office after them, making sure they knew he would be available for follow-up advice.
Volunteer Shaun Morano nursed a one-eyed kitten rescued from a recent hoarding situation as she explained "cats' night out" on Sunday nights: "We pick from three to five cats that get along, and we set up a room with some blankets, beds, toys, food and water. They get to stretch their legs and walk around for the night until the morning when staff comes in and puts them back in their cages."
In the busy lobby, the only spots of stillness were the enormous black rabbit eyeing activity from his cage near the front door and the cats in the adjoining sunroom that had no intention of waking without good reason.
That reason may soon surface: New housing, The Adoption and Education Center, is nearing final construction, although it still hard to predict when the new facility will open, early 2014 seems likely.
Development Director Catherine Forbes provided a tour of the current and future DCSPCA, which has a staff of 30 assisted by 225 active and committed volunteers.
Pointing to a tiny office, she explained, "The Humane Law Enforcement Department staff (two officers and one intern) handle about 2,000 calls a year and seize about 200 animals a year. Our vet will examine and provide evidence needed for each case." In the current clinic, there is desk space, a refrigerator, an examination table, the surgical table, two anesthesia machines, the maternity ward, the recovery area.
Forbes spoke of the ongoing development. "The planning of the new building started in 2006, and a lot of the features are going to be very helpful for the animals. We will have free-roam cat rooms and cat condos; in the dog area, there is lots of natural light and areas for the volunteers to come and work with them and train them, teach them real-world skills – how to not get up on the couch!"
"When we first built in the 1960's, we were set up for "short stays" – in other words, euthanasia," Forbes continued. "Animals would stay 7 to 10 days. We now have animals that have been here for months, and when you have an animal for that long, they need more exercise, more room to move. If they get depressed or unhealthy, it doesn't help them 'go home'. We will have areas for 'pocket pets' (gerbils, hamsters) and the Bird 'Wing'; many birds outlive their owners, so now we can provide some space and adoption opportunities for them. We will now also be able to hold public events out here. We are the first animal service program in the country to be able to use a constructive wetland to process animal wastewater. It makes us a good neighbor to the wildlife on the property, a better host to all the animals."
Other details that have been taken into consideration are cat condos with private litter areas and adequate room for them to exercise, "Matchmaking Rooms" where animals and potential adopters can spend a little private time to get to know each other, and workshops for children to learn how to properly take care of animals.
The DCSPCA offers a range of services that may come as a surprise: DNA testing for dogs, lost and found pet guidelines, a "Faithful Companion" pet cemetery and crematorium, low-cost spay/neuter clinic and vaccinations, youth educational programs, and an ongoing partnership with the Grace Smith House to help victims of domestic violence keep their pets safe from cruelty, particularly after the victim leaves the home.
Just a year ago, DCSPCA began a partnership with PetSmart on South Road in Poughkeepsie to increase the opportunities for pets to find lifelong homes by having adoptable animals available at the location and a DCSPCA adoption counselor available at scheduled hours during the week to help people interested in being matched with a pet.
In addition to grants, DCSPCA fundraising efforts are varied and creative: grooming services at the Mutt Hutt and Catty Shack, bequests via the Legacy Society, "Paws in the Park Petwalk," and the recent opening of their Thrift Shoppe just down the road in The Hidden Plaza.
Architect Rolando Kraeher, a Poughkeepsie resident who designed all the phases of the project, has an extensive professional background, including work on the current repair and restoration of St. Patrick's Cathedral in New York City. "This project has a very special place in my heart," he said. "When I was hired, I explained it would be good to figure out what the needs will be in the next 25 or 30 years and design a master plan to get an idea of how the building and the institution could potentially grow. One of the main things I tried to do was minimize the stress to the animals and the people. I designed a medical-grade ventilation system that changes 100 percent of the air in the animal areas every 10 minutes, which prevents smell and the possibility of disease."
Taking "green" even further is the design and implementation of constructed wetlands on the property, which naturally transform wastewater to water clean enough to flow into the natural wetlands, where a host of many other species have made their homes.
The new building will be a far cry from where the organization began.
In 1871, the Poughkeepsie Branch of the A.S.P.C.A. was formed and housed in a rudimentary shelter; in 1939, the organization took it current name, and by 1941 a facility capable of housing 30 dogs was constructed on Washington Street across from St. Francis Hospital. By the late 1950's, this facility was again too small. Determined fundraising efforts on the part of community women, who formed the SPCA Auxiliary, enabled the purchase of the present site. A new cement block building was dedicated in 1961, and the Auxiliary continued to raise money to support the shelter for many years. Further expansion took place in 1987, when the building was expanded and a puppy run, holding room, and storage area were added. In 1992, the shelter adopted its current "No-Kill" policy. Outdoor kennels for large dogs and runs were added in 1997, and a spay/neuter clinic was added in 2002. More outdoor kennel spaces were added in 2003, and a free-roam sunroom for cats was added in 2006.
At about this time, a Master Site Plan was created to address the long-range needs of the shelter, and with a large gift that enabled them to launch a capital campaign for more ambitious development, ground was broken on Nov. 18, 2010, for the new building.
Eric Ewing, President of the DCSPCA board, is very enthusiastic about the progress.
"This project represents the culmination of the dreams of many people, and we are all tremendously excited and anxious to have it finished," he said. "It will make a huge difference for our organization, for the animals who will finally have the space to be showcased to their best advantage, and for the public, who will have an inviting place to come and meet their new best friend. It is impossible adequately to say thank you to everybody who has contributed to the project."
Facebook Comments