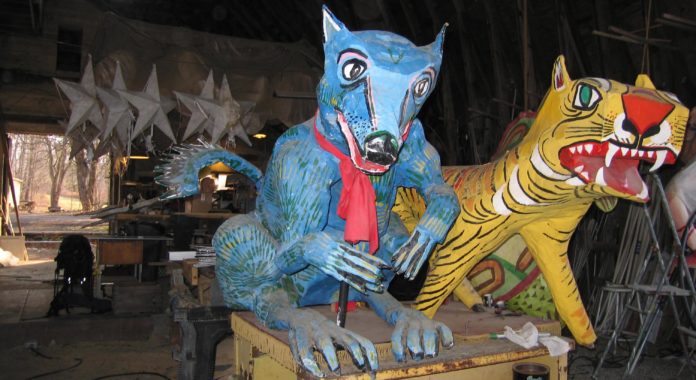 The enthusiasm Jeanne Fleming usually exudes was intensified just days before Sinterklaas (Dec. 7) when she learned that the annual holiday festival in Rhinebeck had received a grant that would pay for the finishing flourishes.
"Sinterklaas is my favorite thing," said the well-known local organizer who also happens to produce the NYC Halloween Parade and is known internationally as a "Celebration Artist."
"There's a lot of people who work on this project, and it is about all of us being part of one community," Jeanne added.
"A lot" is probably an understatement on how many people it takes to actually make the Sinterklaas extravaganza possible. Over 250 are needed to animate the 100-plus puppets, then there are the puppet designers, the puppet builders, a gaggle of Grumpuses (Grumpi?), dancers, musicians, magicians… and how many more to make the 1,000 origami paper peace cranes?
Two of the key collaborators are Sophia Michahelles and Alex Kahn, who have worked together since 1998 as the artists and puppeteers behind Superior Concepts Monsters. They have also worked with Jeanne on the NYC Halloween Parade, and while their creations have been enjoyed from Kiev to Katonah, they especially enjoy making puppets for Walkway Over the Hudson, the Red Hook Bicentennial, and Sinterklaas, because the Hudson Valley is their home.
A week before Sinterklaas, Sophia was working in one of the barns at Rokeby Farm on River Road in Red Hook, surrounded by large colorful puppets in various stages of construction. As she repaired a horse, she explained, "Most of these puppets we take out every year. The Blue Hound from Hell and the Tiger are from the original Dutch Christmas Days and take three or four people to carry and animate them; the snakes take 13 people each. We put out a call for help for loading and unloading the puppets and equipment, and if we have six or more people it goes well."
Bea Lambert, a retired school bus driver from Hyde Park, is the perfect example of one of the unexpected gifts of Sinterklaas. Her hairdresser, Kathy Dressel, prompted Bea to help her make hobby horses for last year's celebration. This year Bea is involved in creating creatures for the festival.
Her two Yorkshire terriers watch intently as she works at a table covered with sequins, beads, feathers, and fabric to transform cardboard cutouts into fancy foxes, this year's "Honored Animal."
"I've never done this before, and I don't consider myself an artist," Bea said modestly. "I did two foxes, and Jeanne liked them and asked if I could do more. They had a party to kick off Sinterklaas, and it was really nice. There are so many people involved. I enjoy when I see that people like what I do."
"Bea Lambert is extraordinary," Fleming said. "She has discovered her creative side by creating small puppets, and they are really beautiful. She is so inspired, it's given her a whole new life. To me, this is the essence of the event. Everybody's involved, and there's a chance for all kinds of people … to contribute something special to the community."
Facebook Comments