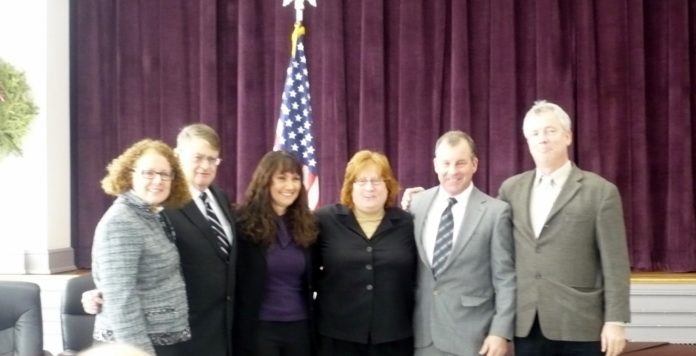 Town of Rhinebeck residents, volunteers, and officials celebrated their 2014 swearing-in ceremony on a crisp, wintry Saturday, Jan. 4.
About 100 people were in attendance, many of them family members and political supporters of those elected. Also in attendance were two past supervisors, Tom Traudt and Steve Block.
Justice John Kane, who was also re-elected, conducted the oaths of office for the new town supervisor, council members, and officials. Elizabeth Spinzia begins her first two-year term as supervisor after being elected to the Town Board in 2011. Councilman Joe Gelb is now in his second four-year term and Councilwoman Elaine Fernandez begins her first four-year term. They join Bruce Washburn ,who is serving his second term.
Also sworn in were County Legislator Joel Tyner , who represents Rhinebeck and Clinton; Kathy Kinsella, the Highway Superintendent, beginning her fifth two-year term; and Charles Wiles, starting a four-year term as a member of the assessors board.
"We're looking forward to working together on your behalf," Spinzia said, adding that it was one of the few times she would speak on behalf of the entire board and town officials.
"This is a good way to start the New Year," Kinsella said, as she thanked friends and family for supporting those who serve the town.
"It's a privilege to serve with everyone who is up here today because this is a very committed group of individuals. Elected officials don't always get along but what they share is a vision, a commonality, of wanting to serve and do good," she added.
Spinzia said the board plans to vote on a new member of the board by appointment at its reorganizational meeting later in January. That person will serve for 2014 and then the seat will be up for election in November to finish the last year of Spinzia's term.
Facebook Comments