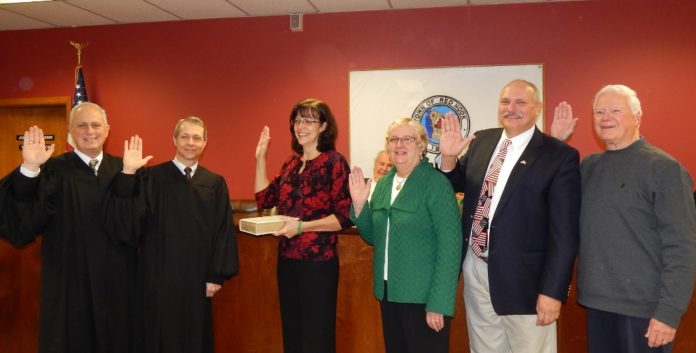 Two Red Hook town board members, the town clerk and a new county legislator were sworn in to new terms Jan. 1 in the presence of about 50 family, friends, and supportive residents at Town Hall.
Councilmen Bill O'Neill and Jim Ross both ran unopposed to retain their seats. O'Neill starts his second four-year term; Ross starts his seventh since he was elected in 1989. Jean O'Neill held the Bible for her husband and Lisa Drummond did the same for Ross as Justices Jonah Triebwasser and Jeffrey Martin took turns administering the oath of office.
Referring to their easy re-election, O'Neill said, "I think everybody can credit that to the fact that the Town Board…is a wonderfully composed and active and respectful group of people. I think that is a credit, really, to the citizens."
They join Harry Colgan, now in his seventh year on the board, and Brenda Cagle, who was elected in 2011 to her first term, as well as Supervisor Sue Crane, who was re-elected in 2011 for her second four-year term.
Town Clerk Sue McCann also ran unopposed and starts her third four-year term. She chose her 90-year-old mother, Muriel Ecklund, to hold the Bible as she was sworn in.
"We are public servants and it takes a lot of effort. Our families know that most of all…but I can't think of a better position that I'd rather have than being Town Clerk of the Town of Red Hook, which I love so much, " she told the group.
Micki Strawinski, who ran a close race against the incumbent, Ben Traudt, for her seat representing Red Hook in the Dutchess County Legislature, was sworn in by Triebwasser with her husband, Doug Strawinski, by her side.
Strawinski previously served one term on the town board from 2008-2011 and this is her first term in the legislature. She had a second swearing-in with the rest of the new county legislators on Jan. 7.
"I understand that there are a lot of challenges within the county and I am ready to take on those challenges along with the County Executive and my colleagues in the county legislature. I look forward to working with the towns and the villages and being a voice for everybody …" Strawinski told the Red Hook audience.
Facebook Comments